A320 / GLID, vicinity Memmingen Germany, 2015
A320 / GLID, vicinity Memmingen Germany, 2015
Summary
On 6 April 2015, the crew of an A320 under radar control in Class E airspace and approaching 4000 feet made a very late sighting of a glider being flown by a student pilot which appeared ahead at a similar altitude. The glider pilot reported having seen a 'cone of light' coming towards him. Both aircraft took avoiding action as practicable and passed within a recorded 450 metres with the A320 passing an estimated 250 feet over the glider. The glider was not fitted with a transponder and was not required to be, and the controller had only secondary radar.
Type of Flight
Public Transport (Passenger)
Tag(s)
Flight Crew Training, Aircraft-aircraft near miss, Copilot less than 500 hours on Type, Unplanned PF Change less than 1000ft agl
Tag(s)
Required Separation not maintained, Near Miss, VFR Aircraft Involved
Number of Non-occupant Fatalities
Number of Occupant Fatalities
Description
On 6 April 2015, a Hungarian-operated Airbus A320 on a passenger flight from Timisoara, Romania to Memmingen, Germany as JA 458 was descending towards final approach at destination in Class E airspace under radar control in day VMC when it came into close proximity with a Grob G102 glider operating out of Bad Wörishofen glider airfield on a training flight and unknown to ATC. The minimum lateral separation after avoiding action was 0.25 nm and the vertical separation at that time estimated as between 200 and 300 feet.
Investigation
An Investigation was carried out by the German Bundesstelle für Flugunfalluntersuchung (Germany) (BFU). QAR data from the A320, the transcript of ATC communications with the A320 and military recordings of primary radar data were made available to assist the Investigation.
The 29-year-old A320 Captain had a total flying experience of more than 5,400 hours including 3,250 hours on type. The 39-year-old Co-pilot had a total flying experience of 7230 hours including 410 hours on type. The 17-year-old student pilot of the glider involved had "more than 38 hours flying experience". The 64-year-old instructor who had authorised the student solo flight and was in another glider with a second student held both a Sailplane Pilot Licence (SPL) and a PPL(A) and had a total flying experience of more than 2,100 hours.
It was established that the A320 had been working Munich Radar and was being vectored to the ILS for runway 24 at Memmingen. Three minutes after being re-cleared to continue descent to 4000 feet QNH, one of the A320 pilots reported having "just missed a glider by, I don't know, two-three hundred feet". They subsequently stated that they had seen the glider as they passed 4,300 feet and that the Captain had immediately taken over as PF and commenced climb. They added that "within one to two seconds, the glider had been overflown". The Investigation found that the AP had been disengaged at a recorded 4357 feet after which the aircraft had descended 28 feet then climbed 24 feet over approximately 5 seconds. There was no evidence that avoidance had included any change of heading.
The G102 student pilot stated he had been circling left when he noticed "a cone of light approaching" which, once it got closer he realised it was an Airbus A320 approaching his position "at an altitude close to his own". In order to avoid it, he continued the circling manoeuvre to the north-east until he was able to fly away in a direction perpendicular to that of the A320. He also stated that "to gain greater distance he had also commenced a descent and increased speed". He believed that "the Airbus passed approximately 200 to 300 metres behind and about 100 to 150 metres above the G102".
The authorising flight instructor stated that at the time of the conflict, he had been at an altitude of approximately 600 meters north of the Bad Wörishofen glider airfield (marked as "Segelflugplatz" on the radar snapshot shown below) when he had seen the A320 "about two kilometres south-west of and approximately 300 meters higher than his own position and that the student-piloted G102 had been "south of his own position at the time".
The Investigation noted that the G102 was not fitted with a transponder and was not required to be. The Munich controller working the A320 had a display which only showed traffic with a functioning transponder and it was noted that access to the Class E airspace concerned below FL100 does not require VFR traffic to be in contact with any ATC unit provided that the VFR minima of 1.5 km horizontally and 1000 feet vertically clear of cloud and a minimum in-flight visibility (IFV) of 5km is respected. The military primary radar record of the conflict showed a minimum lateral separation between the conflicting aircraft of 0.247 nm - equivalent to 457 metres.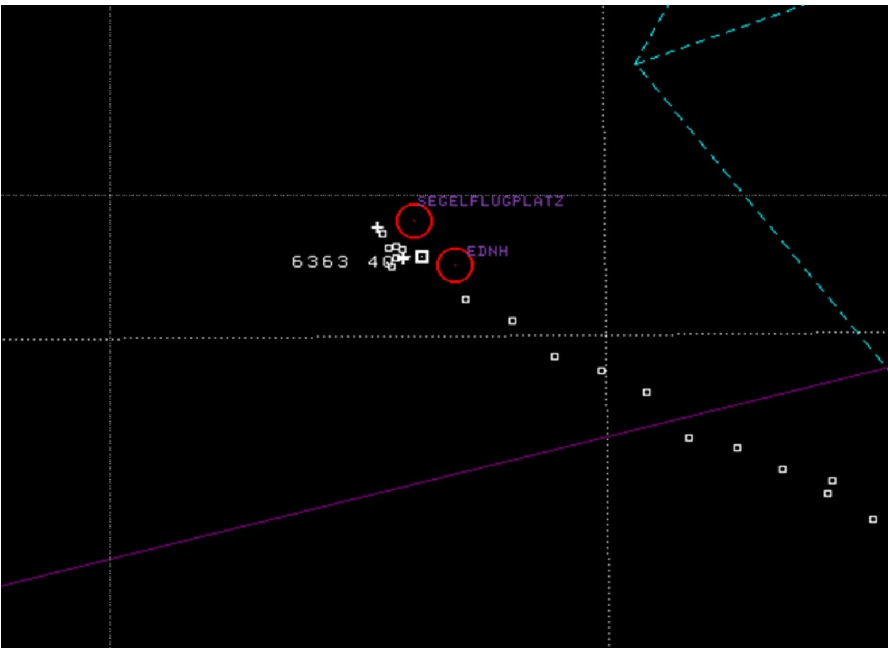 The Final Report of the Investigation was completed on 26 August 2015 and released in November 2015. No Safety Recommendations were made.
Related Articles
Further Reading