A321 / B734, Barcelona Spain, 2015
A321 / B734, Barcelona Spain, 2015
Summary
On 25 November 2015, an Airbus A321 taxiing for departure at Barcelona was cleared across an active runway in front of an approaching Boeing 737 with landing clearance on the same runway by a Ground Controller unaware that the runway was active. On reaching the lit stop bar protecting the runway, the crew queried their clearance and were told to hold position. Noting that the event had occurred at the time of a routine twice-daily runway configuration change and two previous very similar events in 2012 and 2014, further safety recommendations on risk management of runway configuration change were made.
Flight Conditions
On Ground - Normal Visibility
Type of Flight
Public Transport (Passenger)
Tag(s)
Inadequate ATC Procedures
Tag(s)
ATC clearance error, ATC Unit Co-ordination
Tag(s)
Aircraft / Aircraft conflict, ATC clearance error
Tag(s)
ATC error, Incursion pre Take off, Runway Crossing, Visual Response to Conflict, R/T Response to Conflict
Number of Non-occupant Fatalities
Number of Occupant Fatalities
Description
On 25 November 2015, an Airbus A321 (F-GTAZ) being operated by Air France on a scheduled passenger flight from Barcelona to Paris CDG as AFR 1449 was given a taxi clearance by GND which included crossing runway 02 en route to its departure runway in daylight and conditions of normal ground visibility. On seeing a red stop bar at the point where runway 02 was about to be entered, the crew queried this and GND responded with an instruction to hold position. A [B734|Boeing 737-400]] being operated by TNT Airways on a cargo flight from Liège to Barcelona which was on short final to land on the same runway did so shortly afterwards.
Investigation
An Investigation was carried out by the Spanish Civil Aircraft Accident and Incident Investigation Commission (CIAIAC).
The A321 crew was under the command of a 43 year-old Captain with 8,642 hours total flying experience which included 3,765 hours on type. The 26 year-old First Officer had 2,226 hours total flying experience which included 2,078 hours on type. The 737 crew was under the command of a 43 year-old Captain with 5,526 hours total flying experience which included 75 hours on type. The 52 year old First Officer had 8,394 hours total flying experience which included 1,735 hours on type.
The two Controllers on duty at the time were Spanish native speakers who both had valid Level 5 English language proficiency:
a 40 year old TWR controller located in the Main (East) TWR who had 12 years experience all at Barcelona and was qualified as a 'Chief Supervisor'
a 37 year old Central GND controller located in the Main(East) TWR who had 5 years experience, all of it at Barcelona.
It was established that during its taxi out (see the track taken on the diagram below) the A321 had been cleared by GND to route south on taxiway 'D' and whilst doing so was cleared to cross runway 02 at D2. On reaching this point a minute later, the crew observed that the stop bar was lit and could also see that an aircraft was on final to land and so they asked GND to confirm the (explicit) crossing clearance given. In response they received an instruction to 'hold position'. It was found that one minute earlier the 737 had been cleared by TWR to land on runway 02 and had done so soon after the 'hold position' instruction. The A321 was then re-cleared to cross and after it had done so, the crew advised ATC that they would be filing a safety report.
It was noted that the crossing clearance error had been made just as the 0700L time for the daily change of runway configuration from night to day approached and that two very similar events had already occurred at the same time of day in both 2012 and in 2014.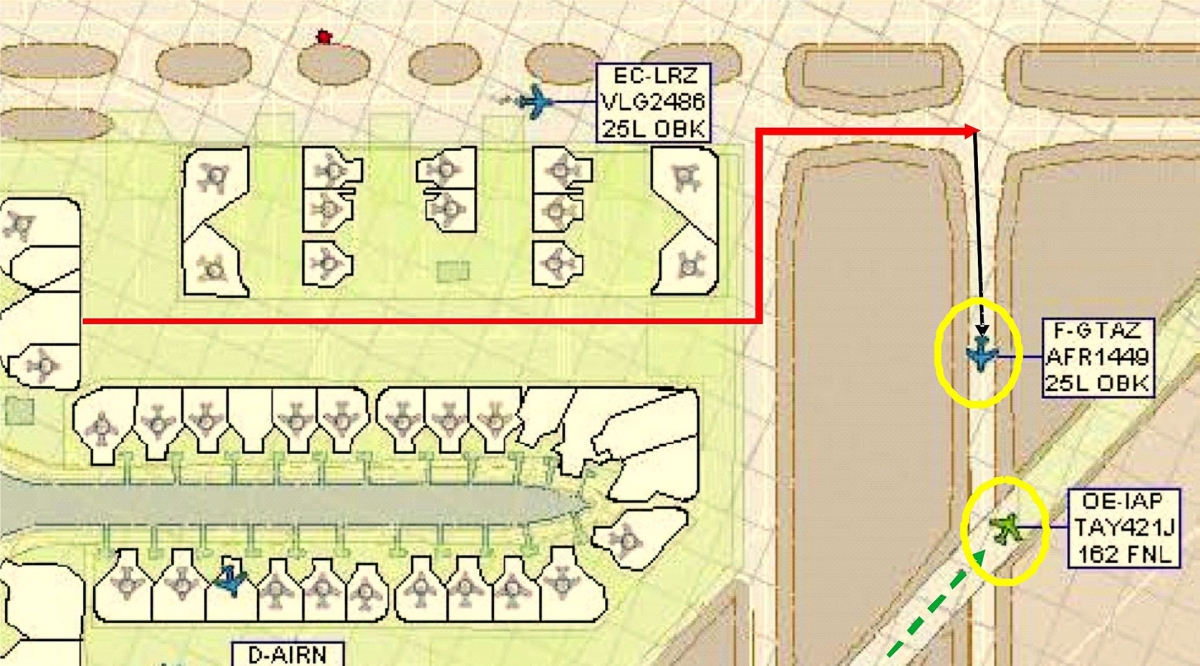 The Investigation examined prevailing ATC procedures and controller training with particular reference to progress made in response to the two Safety Recommendations made (on 26 June 2013) to the ANSP as a result of the Investigation into the 2012 event. These related to controller training and currency with particular reference to runway configuration changes and at the time of the current event were still recorded as having been accepted but not yet implemented.
Taking these preceding Recommendations into account, the current Investigation issued three further "Preliminary" Safety Recommendations on 10 June 2015. They were as follows:
that ENAIRE lay out a specific plan to ensure compliance with procedures during the night time to day time runway configuration changes at the Barcelona-El Prat Airport. [16/15]
that ENAIRE evaluate the risks associated with runway configuration changes at the Barcelona-El Prat Airport and propose mitigation measures. [17/15]
that AESA (the Spanish Aviation Safety Regulator), in coordination with Air Navigation Services Provider, ENAIRE, review the evaluation of the changes associated with runway configuration changes at the Barcelona-El Prat Airport and the mitigation measures proposed. [18/15]
The CIAIAC then held a meeting with Safety Regulator AESA and ANSP ENAIRE in which the Commission "expressed its concern over the continued presence of the risk scenario, given that three incidents had occurred under similar circumstances".
The Investigation continued with a detailed examination of ATC TWR/GND operations and relevant controller training arrangements at the airport as they had affected the investigated scenario. It was noted that stop bars were in use for inactive as well as active runways. If a runway crossing "is not part of the standard taxi route for the (runway) configuration in use, the stop bars will be on" with the GND controller authorised (and required) to turn them off where a clearance involving such a clearance has been given before turning them back on once the aircraft has passed.
It was concluded that "it seems clear that the instruction given by the central ground controller to the aircraft taxing on taxiway 'D' was due to a mental lapse." This conclusion was considered to be "supported by the fact that initially, when the (A321) crew saw that the stop bars were on and asked if the instruction was correct, the controller automatically replied to hold short (and remained) unaware that he had given an incorrect instruction until the Captain informed him that he would report the incident". Only then did the controller admit to "having doubts as to the instruction he had given" and "it was not until he heard the voice recordings that he was sure of his mistake".
Before the completion of the Investigation, conformation of Safety Action taken by both ENAIR and AESA in response to three Safety Recommendations issued early on in the Investigation was reviewed and during a Commission meeting on 26 October 2015 was considered as having been "satisfactory". No further Safety Recommendations were considered necessary.
The Investigation formally concluded that the Cause of the Serious Incident had been "that the (A321) was cleared to cross the runway due to an oversight by the Central Ground controller".
The Final Report was approved on 25 November 2015 and subsequently made available in English translation.
Related Articles