MD83, Mahshahr Iran, 2020
MD83, Mahshahr Iran, 2020
Summary
On 27 January 2020, an MD83 made an unstabilised tailwind non-precision approach to Mahshahr with a consistently excessive rate of descent and corresponding EGPWS Warnings followed by a very late nose-gear-first touchdown. It then overran the runway end, continued through the airport perimeter fence and crossed over a ditch before coming to a stop partly blocking a busy main road. The aircraft sustained substantial damage and was subsequently declared a hull loss but all occupants completed an emergency evacuation uninjured. The accident was attributed to the actions of the Captain which included not following multiple standard operating procedures.
Type of Flight
Public Transport (Passenger)
Tag(s)
Approach not stabilised, Copilot less than 500 hours on Type, PIC aged 60 or over
Tag(s)
Authority Gradient, Inappropriate crew response - skills deficiency, Manual Handling, Plan Continuation Bias, Procedural non compliance, Ineffective Monitoring - PIC as PF
Tag(s)
Aircraft Flight Path Control Error, Environmental Factors, Aircraft Loading, Hard landing, Incorrect Thrust Computed
Tag(s)
Overrun on Landing, Excessive Airspeed, Late Touchdown, Significant Tailwind Component
Group(s)
Aircraft Operation
Air Traffic Management
Airport Management
Description
On 27 January 2020, a McDonnell Douglas MD83 (EP-CPZ) being operated by Caspian Airlines on a scheduled domestic passenger flight from Tehran Mehrabad to Mahshahr as CPN6936 made a highly unstabilised tailwind approach in day VMC and a very late touchdown before overrunning the end of the runway by 450 metres and coming to a stop partly blocking a busy main road. The 136 passengers and 8 crew members completed an emergency evacuation without injury but the aircraft was so badly damaged that it was declared a hull loss. Damage also occurred to fencing, the roadway surface and its median strip and a lamp post.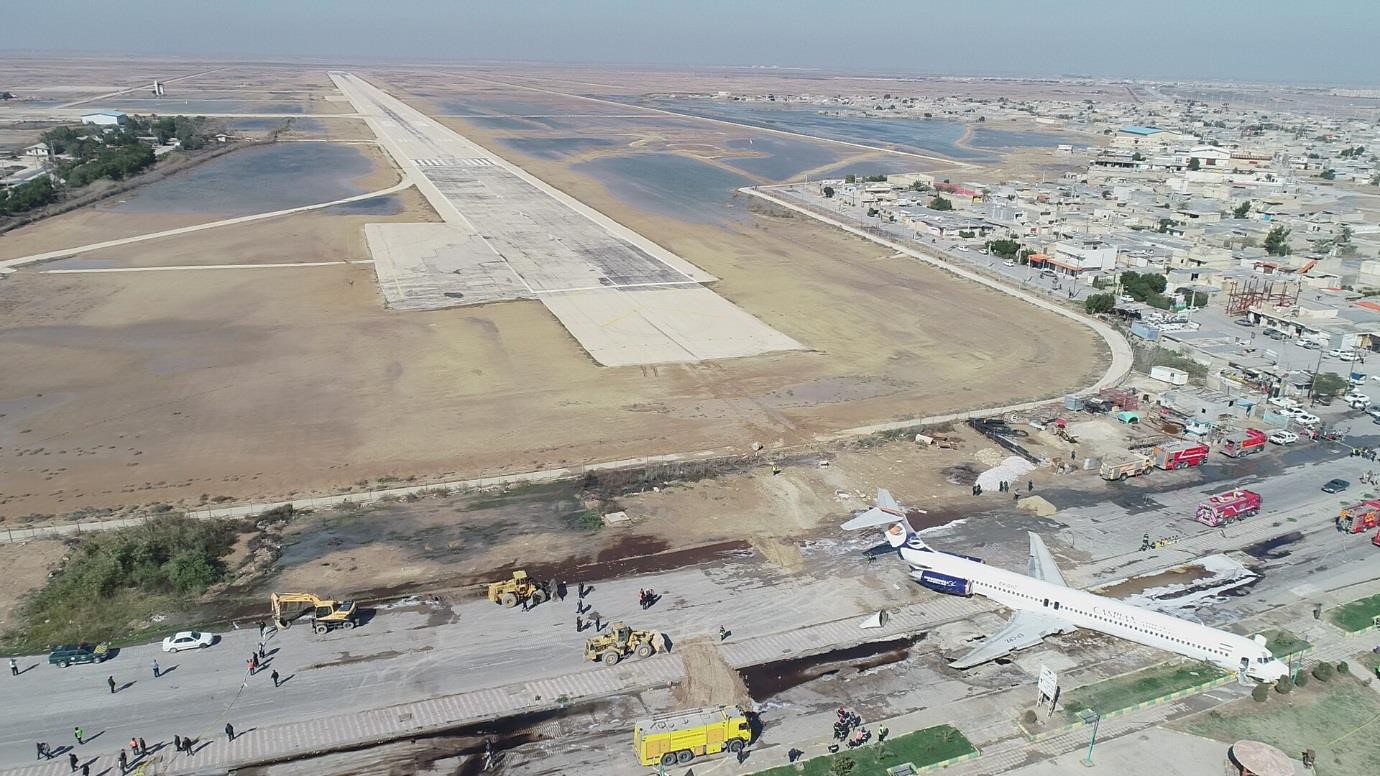 The aircraft where it finally stopped. [Reproduced from the Official Report]
Investigation
An Investigation was carried out by the Iranian CAO Air Accident Investigation Board (AAIB). The SSCVR and SSFDR were recovered and their data successfully downloaded. Relevant recorded ATC data was also available. Both pilots were Iranian Nationals. The 64 year-old Captain, who was PF for the accident flight, had a total of 18,430 hours flying experience which included 7,840 hours on type, all but 81 hours of which were as Captain. He had previously flown for Kish Airlines on the F50 and MD80 fleets before moving to Caspian Airlines since when he had flown 477 hours on the MD80. It was reported that he had also been observed to fly other unstabilised approaches at different airports. The 28 year-old First Officer had a total of 300 hours flying experience of which 124 hours were on type.
What Happened
The cruise from Tehran was at FL320 working Tehran Radar. Shortly after being cleared for the initial descent to FL100, the Descent/Approach Checklist was completed "but landing data and briefing were not completely done". The Investigation noted that the ELW was 58 tonnes which would mean a VAPP of 136 KIAS and a VREF of 131 KIAS.
The flight then made contact with the Mahshahr AFISO who advised that runway 31 was in use with the wind 280°/ 8 knots. On hearing this, the flight then requested runway 13 instead and this was approved with a VOR/DME approach expected (although CAVOK (cloud and visibility ok) prevailed). Whilst in the descent to FL100, radar service was terminated and the flight transferred to Mahshahr. The flight was cleared to descend to 2000 feet for the VOR/DME approach to runway 13 and instructed to call leaving the procedure initial approach fix (IAF) at waypoint 'GODMO' for which the procedure crossing height was 2000 feet. The requested call was subsequently made as the aircraft descended through a recorded 6,647 feet at 243 KCAS and landing clearance was given. 
Passing 2,500 feet agl with the speed still high (219 KCAS), the AP was disengaged and the Captain "decided to control altitude & speed by executing a series of 'S' turns whilst continuing in sight of the ground". Shortly after passing 1000 feet agl, the Captain asked the First Officer to set the approach speed which he did and called 135 knots as the FDR was recording 196 KCAS. EGPWS 'SINK RATE' Warnings began and continued until just before touchdown. The First Officer suggested reading the Landing Checklist, but the Captain "did not accept" although indicated that he intended to continue with his unstabilised high-speed approach and land. Finally, less than 90 seconds after leaving 2,500 feet, the aircraft touched down at a recorded 171 KCAS (VREF +40) two thirds of the way down the 2,695 metre-long runway nose landing gear first. Full reverse thrust and braking were not enough to prevent an overrun which continued for 450 metres onto a busy main road before the aircraft finally stopped. 
The First Officer claimed in his statement after the accident that he had "wanted to take control of the aircraft and follow the missed approach procedure but due to the Captain's over-confidence in continuing and the age gap, had disregarded it."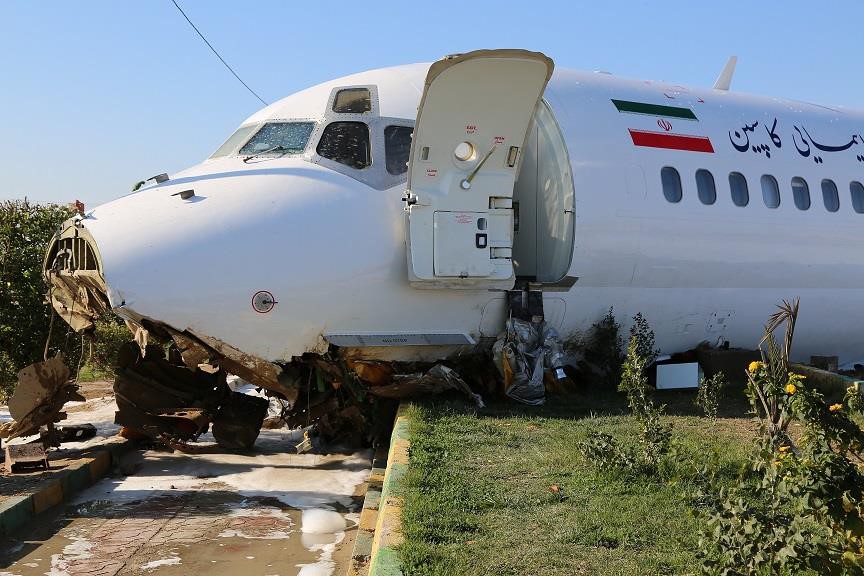 Damage the front of the fuselage. [Reproduced from the Official Report]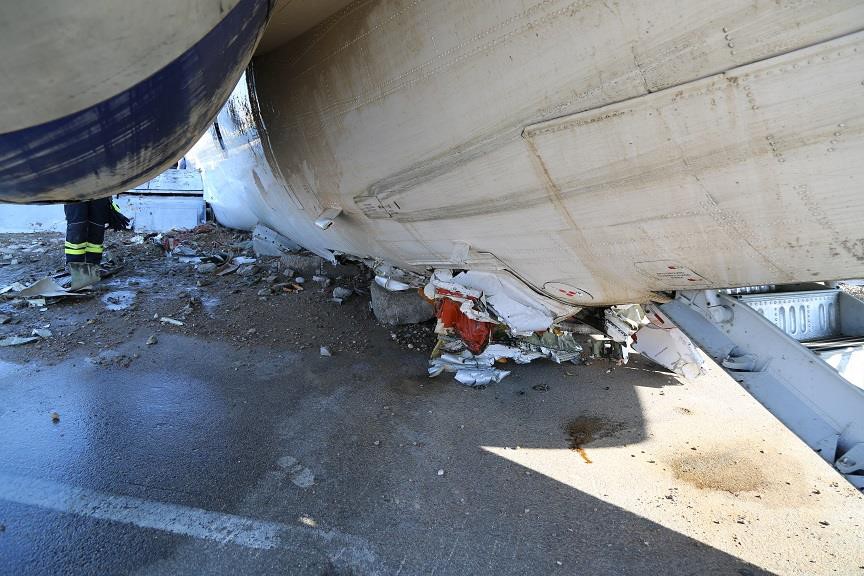 Damage to the aft fuselage. [Reproduced from the Official Report]
The Probable Causes of the Accident were formally documented as failures by the flight crew:
Poor decision-making for acceptance of the risk of high-speed landing;
Un-stabilised approach against the normal flight profile;
Poor CRM on the flight deck; and 
Poor judgment and not accomplishing a go-around after performing an unstabilised approach.
Three Contributory Factors were also identified as follows: 
Loading of 5 tons more fuel than required which increased the landing distance required.
Decision to make a landing on RWY 13 with tailwind. 
Inability of the First Officer (PM) to take control of the aircraft and execute a go around.
A total of nine Safety Recommendations all included as items on a list with the reference SR No 981107 CPZ were made as a result of the findings of the Investigation upon its completion as follows:
that the  Iran Civil Aviation Organisation (CAO) require all operators to provide more guidance and enforce further training for pilots and dispatchers regarding the company's fuel policy and the assumptions affecting landing distance/stopping margin calculations, to include use of aircraft ground deceleration devices, wind conditions and limits, air distance, and safety margins.
that the Iran Civil Aviation Organisation (CAO) submit a formal request to the Cabinet of Ministers of the Islamic Republic of Iran to correct the runway strip dimensions in the Iran Aerodromes Bylaw in accordance with ICAO Annex 14.
that the Iran Civil Aviation Organisation (CAO) update the information on Mahshahr airport in the Iranian AIP.
that Caspian Airlines perform Line Operations Safety Audits (LOSA) on both Flight Crew and Cabin Crew.
that Caspian Airlines correct the Simulator Lesson Plans used in flight training based on the findings of this Investigation. 
that Caspian Airlines expand and improve their OFDM system.
that Caspian Airlines improve communications between their Operations Department and all crew members in respect of flight planning (roster) notifications.
that Mahshahr Airport follow Iran CAO aerodrome requirements for ANS, control of obstacles and review of Instrument Approach procedures. 
that the Iran Airports and Air Navigation Company provide training guidelines for ATS personnel about the agreed coordination between neighbouring ATS units.  
The completed Final Report was published on 1 September 2020.
Related Articles