S92, manoeuvring, near Black Rock Western Ireland, 2017
S92, manoeuvring, near Black Rock Western Ireland, 2017
Summary
On 14 March 2017, control of a Sikorsky S92A positioning in very poor visibility at 200 feet over the sea in accordance with an obstacle-marked FMS ground track in order to refuel at a coastally-located helipad was lost after it collided with late-sighted terrain ahead before crashing into the sea killing all on board. The Investigation attributed the accident to the lack of crew terrain awareness but found a context of inadequate safety management at the operator, the comprehensively ineffective regulatory oversight of the operation and confusion as to responsibility for State oversight of its contract with the operator.
Type of Flight
Public Transport (Non Revenue)
Approx.
near Black Rock, western Ireland
Tag(s)
Helicopter Involved, Inadequate Aircraft Operator Procedures, Ineffective Regulatory Oversight
Tag(s)
Unintended transitory terrain contact
Tag(s)
Uncontrolled Water Impact
Number of Occupant Fatalities
Group(s)
Aircraft Operation
Aircraft Technical
Group(s)
Aircraft Operation
Aircraft Airworthiness
Description
On 14 March 2017, a Dublin-based Sikorsky S92A (EI-ICR) being operated by CHC Ireland on behalf of the Irish Coast Guard was positioning in night IMC to assist an offshore casualty recovery operation already under way off the west coast of Ireland by providing "top cover". The Captain was aware that en-route refuelling would be necessary and decided after takeoff that uplift at a coastal helipad at Blacksod would be appropriate. Whilst attempting to navigate to this location at low level in very poor forward visibility, a late sighting of terrain co-located with the first FMS waypoint of the intended approach was followed by unsuccessful avoiding action and a collision which led to a loss of control and the helicopter impacting the sea surface with fatal injuries sustained by all four occupants.
Investigation
A comprehensive Investigation was carried out by the Irish AAIU. The ULB signal from the submerged MPFR, which had equivalent data retention capability to an FDR and a 2 hour CVR led to its location the day after the accident and it was subsequently found by an ROV still attached to its original mountings in the forward left hand avionics rack. It was recovered by divers ten days after the accident and its data were successfully downloaded.
The Flight Crew
The 45 year-old Captain in command had a total of 5,292 hours flying experience which included 825 hours on type with approximately 725 of those hours obtained in command on type. The 51 year-old Co-Pilot was also employed as an S92 Captain at the Dublin base and had a total of 3,435 hours flying experience which included 795 hours on type with approximately 695 of those hours obtained in command on type.
What Happened
As a result of an injury to a crew member on board a Fishing Vessel approximately 140 nm west of Ireland, the Duty SAR crew based at Sligo had been tasked with airlifting the injured crewman to hospital. The Dublin Airport-based accident helicopter was then tasked with providing support ('top cover') for the airlift mission. The assigned Co-Pilot was already in the rest room at the Dublin Base and the Captain in command arrived about half an hour later after telephoning from her car. Meanwhile, the engineering support team had towed the helicopter from the hangar to prepare it for refuelling and the two assigned other crew members had arrived.
All four crew members gathered in the operations room and one of the Dublin-based engineers recalled the Captain in command commenting that the weather at a suggested interim stop, Blacksod, was probably not going to be good enough and that they would instead route to Sligo. The Sligo SAR base was advised that the Dublin helicopter "would be coming into Sligo for a rotors-running refuel because the weather at Blacksod was unsuitable". 
The helicopter took off from runway 16, established on track to the north and levelled off at 3,000 feet QNH. Nine minutes after takeoff, one of the rear crew contacted the helicopter conducting the recovery and was advised that they would shortly be landing at Blacksod and would make contact again once on the ground there. They described the conditions as they neared the landing as including some low cloud at about 500 feet whilst inbound on what was subsequently found to have been a different low level route to the one the Dublin-based helicopter intended to use. 
The flight continued at 3,000 feet and after determining that there would be a time/fuel advantage in uplifting fuel at Blacksod rather than Sligo, it was decided they would route to Blacksod and a slight change of track to the left followed. On ATC instructions, the flight then transferred to Shannon Information and advised that it was en route to Blacksod IFR and would be climbing to 4000 feet QNH.
Once the Helicopter was level at 4,000 ft, the Captain in command advised that she was going to select the 'APBSS' (Blacksod South) route for an arrival at Blacksod  (BLKSD) on the FMS and descend out to sea before turning around to follow the prescribed inbound route from waypoint BKLMO via waypoints BKSDA, BKSDB and BKSDC to Blacksod. The illustration of this route taken from the Route Guide (see below) showed relevant obstacles in numbered red circles with obstacle one being the 282 feet high Blackrock which was co-located with the waypoint BLKMO.  
The FMS Route Guide Blacksod South Route (legs 1-4 inbound, legs 5-7 outbound). [Reproduced from the Official Report]
Half an hour after passing over Knock Airport, the waypoint BKSDA on the inbound FMS route was overflown tracking west northwest and descent from 4000 feet was commenced with ATC informed accordingly. As 2,400 feet was passed, an automatic SAR helicopter mode which results in descent from 2,400 feet agl to 200 feet agl unless interrupted was selected on the AFCS. As the descent continued, a slight right turn was made to allow descent down to 200 feet prior to making a left turn back to waypoint BLKMO". 
As this left turn was commenced with the automatics still engaged by selecting 'Direct To' BLKMO, the Winchman announced that the helicopter was "clear around to the left" and this was followed approximately 30 seconds later by the Co-Pilot announcing that they were clear ahead on the EGPWS and radar. As the turn was continuing at 200 feet, the 'Before Landing' Checklist was commenced and as it was completed, the Captain-in-command was recorded commenting that she was visual with the sea surface. Soon after, an Auto Callout "Altitude, Altitude" was annunciated and in response, she was recorded saying it was "just a small little island that's BLKMO itself" but after another 20 seconds or so, the Winchman announced that he was "looking at an island just eh directly ahead of us now guys…you wanna come right [commander's name]". She asked for confirmation of the required turn, was told 20° right and instructed the Co-Pilot to select HDG mode which he did as the Winchman called "come right now, come right, COME RIGHT". 
Shortly after this, FDR data showed the helicopter pitching up rapidly and rolling to the right following which it collided with the western end of Black Rock, departed from controlled flight and fell into the sea. The main wreckage came to rest on the seabed to the east of Black Rock, at a depth of 40 metres.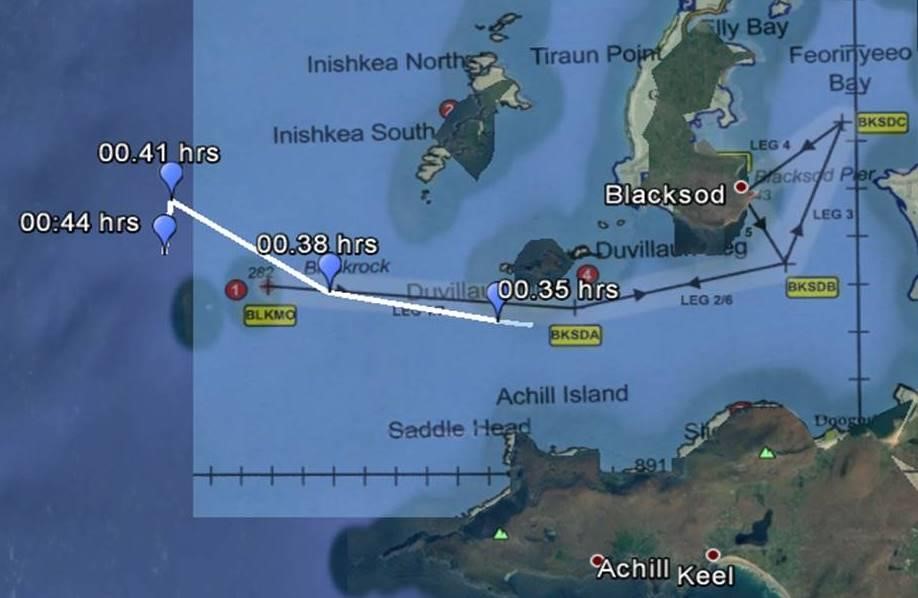 The ground track as the turn towards Black Rock began three minutes prior to the collision. [Reproduced from the Official Report]
Discussion
Various observations were made based on the factual information gathered and on its wider systemic context which included, in concise summary, the following:
The flight crew did not verbalise the obstacles listed for the chosen APBSS route and it seems that they believed that its design as one of CHC Irelands' 'Low Level' routes would, if followed using the FMS, provide adequate lateral terrain separation. 
Even though both pilots separately reviewed the APBSS route, neither noticed the presence of Black Rock as an on track obstacle. The combination of relatively low flight deck lighting with the use of coloured documents, the size of font used in some of them, the tabulation of a large amount of numerically dense information intended to be used in conjunction with charts as well as the combined portrait/landscape presentation of some routes, including APBSS was sub optimal.
The reason for retaining in unaltered form a longstanding procedure which used a 282 feet obstacle as the starting point for what the Operator described as a 'Low Level' route, with no vertical profile, could not be determined because the origins of the route design itself were unknown to the CHC Ireland. 
A number of other factors militated against the pilots detecting their unexpected proximity to Black Rock in time to carry out an effective avoidance manoeuvre: 

it was not in the EGPWS database; 
the BLKMO magenta waypoint symbol and track line on the nav display probably obscured radar returns from Black Rock which might otherwise have been detected when set to the 10 nm range;
The 1:250,000 Aeronautical Chart Euronav imagery did not extend as far as Black Rock, and the 1:50,000 Ordnance Survey Ireland imagery in the Toughbook showed open water at the position where Black Rock was located; 
CHC Ireland did not have formal processes or procedures to approve mapping data/imagery for use in its helicopters. 

The operating environment on the west coast would have been more challenging than east coast crews were familiar with particularly regarding the availability of visual cues in the littoral environment. This meant that it would not have been possible for the Flight Crew to accurately assess forward horizontal visibility. Since Black Rock was only detected on the helicopter's infra red camera when it was approximately 600 metres away, it is likely horizontal visibility using the naked eye was less than that and the pilots' night vision may have been compromised by the helicopter's external lighting.  
CHC Ireland stated that the routes provided "were merely there as a framework on which to build a plan for entry/exit to a number of known sites". There was no formal training in their use, no formal procedure for the design of routes, no formal procedure for how a crew should use a route guide, routes did not include a vertical profile or, usually, minimum altitudes for route legs and routes were not available for use in the full flight simulator. 
The Route Guide was prefaced with the statement that it was 'a work in progress and should be used with the necessary caution until all routes/waypoints are proven'. There was no defined process for route proving and in the absence of formal, standardised training, design procedure or procedure for how a crew should use a route guide, it was unclear what beliefs/expectations individual pilots may have had regarding routes and how they could be used. Problems with a number of routes had been identified through crew safety reporting but these were closed without any check that routes with problems had actually been corrected.
There were wider failings in the CHC Ireland SMS with procedures not following those documented and/or obviously necessary, risk assessments being carried out by inadequately trained personnel, and failure to properly record important safety information.
The reliance by CHC Ireland on a secondary duty model to discharge safety critical tasks meant that matters could arise and be left in abeyance while personnel were on leave, off-shift or otherwise engaged in their primary SAR duties. 
Despite the fact that its published reports and Aeronautical Notice said that the IAA SAR operations were classified as a 'State' activity and were to be regulated by the National Aviation Authority, the IAA subsequently expressed uncertainty about its mandate to regulate SAR; however, it neither withdrew nor restricted the Operator's National SAR Approval.
CHC Ireland, the Irish Coast Guard and the Irish Government Department of Transport, Tourism and Sport all believed that the Irish Aviation Authority was regulating SAR operations. Audit reports of the Operator's bases for the Irish Coast Guard by a consultant did not appear to have been critically reviewed and the organisation did not have an SMS. Also, the Department of Transport, Tourism and Sport lacked the technical expertise to effectively oversee the Irish Aviation Authority.
Although it was acknowledged by the Irish Aviation Authority that CHC Ireland was performing "medium to high risk" operations, the level of operational safety oversight achieved did not reflect this.
Overall, the Investigation came to the conclusion that the collective findings made demonstrated that the accident was, in effect, what could be fairly described as 'an organisational accident'. The particular challenges of contracting and tasking complex operations such as Search and Rescue require that associated risks are fully understood, that effective oversight of contracted services can be maintained and that helicopters only launch when absolutely necessary.
The Probable Cause of the Accident was formally recorded as "the Helicopter was manoeuvring at 200 feet asl, 9 nm from the intended landing point, at night, in poor weather, while the crew was unaware that a 282 feet high obstacle was on the flight path to the initial route waypoint of one of the Operator's pre-programmed FMS routes".
Twelve Contributory Factors were also identified as follows:
The initial route waypoint, towards which the Helicopter was navigating, was almost coincident with the terrain at Black Rock. 
The activities of the Operator for the adoption, design and review of its routes in the FMS Route Guide were capable of improvement in the interests of air safety. 
The extensive activity undertaken by the Operator in respect of the testing of routes in the FMS Route Guide was not formalised, standardised, controlled or periodic. 
The training provided to flight crews on the use of the routes in the (paper) FMS Route Guide, in particular their interface with the electronic flight management systems on multifunction displays in the cockpit, was not formal, standardised and was insufficient to address inherent problems with the FMS Route Guide and the risk of automation bias.
The FMS Route Guide did not generally specify minimum altitudes for route legs. 
The flight crew probably believed, as they flew to join it, that the APBSS route (from waypoint BLKMO to waypoint BLKSD as described in legs 1 to 4 of the narrative and on the map in FMS Route Guide) provided by design adequate terrain separation from obstacles.
Neither pilot had recently operated into Blacksod. 
EGPWS databases did not indicate the presence of Black Rock, and neither did some 'Toughbook' and 'Euronav' imagery. 
It was not possible for the flight crew to accurately assess horizontal visibility at night under cloud at 200 feet above sea level and 9 nm from shore over the Atlantic Ocean. 
The flight crew members' likely hours of wakefulness at the time of the accident were correlated with increased error rates and judgement lapses. 
There were serious and important weaknesses with aspects of the Operator's SMS including in relation to safety reporting, safety meetings, its Safety and Quality Information Database (SQID) and the management of its FMS Route Guide such that certain risks that could have been mitigated were not. 
There was confusion at the State level regarding responsibility for oversight of SAR operations in Ireland. 
A Preliminary Report published on 13 April 2017 whilst the Investigation was continuing included two Interim Safety Recommendations as follows:
that CHC Ireland should review/re-evaluate all route guides in use by its SAR helicopters in Ireland, with a view to enhancing the information provided on obstacle heights and positions, terrain clearance, vertical profile, the positions of waypoints in relation to obstacles and EGPWS database terrain and obstacle limitations. [2017-005]
that RFD Beaufort Ltd should review the viability of the installation provisions and instructions for locator beacons on Mk 44 lifejackets and if necessary amend or update these provisions and instructions taking into consideration the beacon manufacturer's recommendations for effective operation. [2017-006]
A First Interim Statement on the progress of the Investigation published on 16 March 2018 included three more Interim Safety Recommendations as follows:
that the Sikorsky Aircraft Corporation should make the necessary updates/modifications to the S-92A helicopter to ensure that the latitude and longitude information recorded on the Flight Data Recorder reflects the most accurate position information available during all flight regimes and mission profiles. [2018-001]
that CHC Ireland, with external input, should conduct a review of its SMS and ensure that the design of its processes and procedural adherence are sufficiently robust to maximise the safety dividend; this review should consider extant risk assessments and a thematic examination of the corpus of all safety information available to the Operator, both internally and externally. [2018-002]
that the Irish Minister for Transport, Tourism and Sport as the issuing authority for the Irish National Maritime Search and Rescue Framework should carry out a thorough review of SAR aviation operations in Ireland to ensure that there are appropriate processes, resources and personnel in place to provide effective, continuous, comprehensive and independent oversight of all aspects of these operations. [2018-003]
A total of 42 Safety Recommendations based on the Findings of the Investigation were then made at its conclusion as follows:
that CHC Ireland should review its guidance, operating and training procedures in relation to the use of EGPWS in its operations, ensuring crews are aware of the limitations of the system and that the EGPWS manufacturer's guidance on the use of Low Altitude mode is followed. [2021-03] 
that CHC Ireland should ensure that it has in place processes to ensure that mapping imagery used in its 'Euronav' and 'Toughbook' are suitable, current and sufficiently comprehensive for its intended uses, and that appropriate guidance for the use of such systems is provided in the Operations Manual. [2021-04]
that the Irish Aviation Authority should require operators who have exemptions from Rules of the Air, to provide a full safety case, including details of the acceptable navigation data sources to be used, as part of the exemption application and review processes. [2021-05]  
that the Irish Aviation Authority should require an operator that has exemptions from Standard Rules of the Air to state the minimum height at which each leg of its company routes can be flown. [2021-06] 
that CHC Ireland should develop and promulgate procedures/processes for all aspects of Route Guide management including route design, review, approval, updating, usage, briefing, operational limitations (to include at a minimum, visibility & altitude limits and Airborne Radar Approach compatibility), crew training and periodic familiarisation requirements. [2021-07]  
that the Irish Minister for Transport should ensure that the training syllabus for personnel involved in the decisions to launch SAR helicopter missions includes the following:

information regarding the protocols used by other agencies with whom they work, so that it is clear where responsibilities lie and how to make best use of each agency's expertise; 
recognition of and strategies to address cognitive bias which could affect decision-making/risk assessment regarding the initiation and continuation of SAR missions;
the potential for in-flight communications with helicopter crews to adversely affect crew effectiveness;
practical scenario-based exercises. [2021-08]

that CHC Ireland should, with input from its parent company, ensure that its OM Part A assignment and alignment of Nominated Persons' responsibilities is appropriately defined; that limitations regarding assignments are appropriately set out and adhered to; and that appropriate processes, procedures and training enable staff to discharge assigned responsibilities in a transparent and auditable manner. [2021-09] 
that CHC Ireland should, with input from its parent company, review its organisational structure, secondary duty model, staffing levels and personnel training, for its operations and support functions, to ensure that there are sufficient resources available to discharge all necessary responsibilities, safety management oversight, and the drafting, approval and management of documentation. [2021-010] 
that CHC Ireland should consider implementing a LOSA programme within its SAR operation which can routinely review operational standards for flight and technical crew, and provide reports on these reviews to the Accountable Manager for actioning by the relevant function. [2021-011]
that CHC Ireland should formalise its monitoring of all SAR flights to ensure that use of any exemptions allowed under the National SAR Approval is monitored, that minimum horizontal visibility is always recorded and that missions and decision-making are routinely reviewed with crews to maximise safety margins and standardise launch criteria. [2021-12] 
that the Irish Minister for Transport should implement a procedure for Irish Coastguard to engage, at an appropriate level, with its SAR helicopter operator in relation to mission launch concerns in a manner that minimises any impact on duty crews and avoids creating a perception of competition or commercial pressure. [2021-13] 
that CHC Ireland should ensure that appropriate time is provided within the roster to facilitate staff attendance at safety-related meetings and that the minutes of all safety related meetings are stored in a manner that facilitates their incorporation into the knowledge base of safety information within the company. [2021-14] 
that CHC Ireland should review its OM Part F procedures in order to: 

remove consideration of casualty condition from flight crew dispatch/continuation criteria for SAR missions; 
require crews of support SAR helicopters to specifically consider when/whether it is appropriate to dispatch under SAR criteria; 
provide specific guidance to crews about the assessment of visibility under conditions of darkness and or poor weather. [2021-15] 

that the Irish Minister for Transport should, in conjunction with the relevant agencies, review processes regarding the requesting/tasking of 'Top Cover' assets, fixed wing or helicopter, and should ensure that terminology is well defined and consistently used. [2021-16] 
that the Irish Minister for Transport should ensure that proposed changes to Irish Coast Guard operating procedures are the subject of a risk assessment or safety case, that any mitigations required are in place prior to implementing the changes, and that SOPs are updated in a timely fashion to reflect any such changes. [2021-17] 
that CHC Ireland should review its policies, manuals, training and guidance in relation to the operational use of radar in the SAR role and ensure that manuals and training accurately reflect the limitations of the systems used. [2021-018] 
that CHC Ireland should ensure that rear crew members receive adequate operational training and periodic, formal training and rating(s) to operate the 'Toughbook', with particular emphasis on approaches and construction of routes to target areas, the limitations of the databases and software in use; and that the OM Part F and other documentation for both systems should be reviewed and updated. [2021-019] 
that CHC Ireland should review its document management and updating methodologies and the robustness of its practices to ensure that current documents are readily apparent, that older revisions are appropriately archived and that staff members are provided with a uniform method for confirming the latest revision state of any document. [2021-020]
* that CHC Ireland should introduce, and regularly review, a Helicopter OFDM programme to support its SMS and personnel in identifying and addressing operating issues and trends to optimise safety margins within its operation. [2021-21]  
that the Sikorsky Aircraft Corporation should make the necessary updates/modifications to the S-92A helicopter, when configured for SAR operations, to ensure that the active lateral navigation mode information, including AFCS SAR modes, are recorded on the Flight Data Recorder during all flight regimes and mission profiles. [2021-22] 
that the Sikorsky Aircraft Corporation should make the necessary updates/modifications to the S-92A Helicopter Rotorcraft Flight Manual Supplement No. 4 Part 2, to include a description of the operational usage of the AFCS SAR 'SRCH' mode. [2021-23]  
that the Irish Minister for Transport should ensure that the Irish Coast Guard's internal processes are sensitive to warnings from its process auditors, and that mechanisms are in place to ensure that appropriate and necessary actions are expeditiously implemented in response to any such warnings. [2021-24] 
that the Irish Minister for Transport should review the provision of aviation expertise to the Irish Coast Guard to ensure that it is effective and structured to support appropriate governance arrangements and that Irish Coast Guard operating procedures are risk assessed and maintained current. [2021-25] 
 that the Irish Minister for Transport should ensure that appropriate departmental governance arrangements are in place to oversee the functioning of the Irish Coast Guard and to ensure that issues identified are addressed so that the systems in place will be sufficiently comprehensive and robust. [2021-26]  
that the Irish Minister for Transport should ensure that the Irish Coast Guard fully implements a Safety Management System which encompasses all aspects of its air operations and which includes all stake holders in those operations. [2021-27] 
that the Irish Minister for Transport should review extant service level agreements involving Irish Coast Guard air operations to ensure that they are suitably robust and complete, and to ensure the viability of statements of responsibility provided in such service level agreements. [2021-28] 
that the Irish Minister for Transport should periodically review the availability of in-house expertise, to ensure that the Department retains the necessary technical capabilities to intelligently oversee and review all activities associated with SAR aviation operations. [2021-029] 
that the Irish Aviation Authority should review its arrangements, guidance and procedures for overseeing civilian operators providing SAR services within the State, to ensure that they are sufficiently robust and transparent so that all parties involved have a full understanding of the scope and limits of their responsibilities and that agency interface arrangements are designed for optimal clarity and shared understanding. [2021-30] 
that the Irish Minister for Transport should ensure that the Department has sufficient specialist aviation expertise to enable it to discharge effective oversight of the full range of Irish Aviation Authority activities. [2021-31] 
that the Irish Minister for Transport should institute a detailed review of the Irish Aviation Authority's regulatory and oversight mechanisms to ensure that they are sufficiently robust and comprehensive and that interfaces and delineation of responsibilities are clearly defined and understood by the Irish Aviation Authority and the entities it regulates. [2021-032]
 that the European Commission should carry out a review of how SAR is managed in EU member states with a view to identifying best practice/minimum safety standards and, as appropriate, promulgating guidance for SAR operations using civil registered aircraft, which at the moment are excluded from Regulation (EU) No 2018/1139 so that an appropriate and uniform level of basic safety will apply in civil SAR operations throughout Europe. [2021-033] 
that the Irish Minister for Transport should engage with the European Union Aviation Safety Agency and the European Commission to ensure that an appropriate SAR regulatory framework, and associated guidance material are in place whether by opt-in to Regulation (EU) No 2018/1139, or otherwise. [2021-034]
that the Irish Minister for Transport should review the SAR/Helicopter Emergency Medical Services (HEMS) Decision Tree and all arrangements regarding the tasking of SAR helicopters to ensure that there is maximum clarity in the tasking process and that HEMS missions are not conducted under provisions which should only apply to SAR missions. [2021-035] 
that the Irish Aviation Authority should ensure that its review procedures for operators that carry out multiple mission types, particularly where different regulatory regimes are in place, consider and address all aspects of mission differentiation, to ensure that operators are applying full, appropriate regulatory rigour to all flights. [2021-036]
that CHC Ireland should review and update its offshore survival training procedures to ensure that all helicopter crews carry out their mandatory training wearing the safety clothing and types of equipment that would be worn during day-to-day operations, and to ensure that the correct functioning and compatibility of all safety clothing/equipment is verified during this training. [2021-037]
that CHC Ireland should review and update its procedures relating to the introduction into service of non-mandatory equipment generally, and safety equipment in particular, to ensure that the procedures are sufficiently robust to identify and resolve integration issues before equipment is introduced into operational service. [2021-038]
 that CHC Ireland should engage with all relevant parties to conduct an in depth study and review of the cockpit environment of its S-92A helicopter to ensure that safe operations can be achieved under all ambient lighting conditions and that all aspects of information presentation (colour schemes, typography, size, font, surface reflectivity, etc.) used in the presentation of Route Guides, Landing Site Directories and other information provided for use by flight crew, are optimised for use in the cockpit environment. [2021-039] 
that the European Union Safety Agency should carry out a safety promotion exercise, in parallel with the development of certification specifications for human factors in the design of rotorcraft cockpits, to provide operators of in-service helicopters with a best practice guide to mitigate the risks associated with human factors and pilot workload issues. [2021-040] 
that CHC Ireland should provide explicit guidance in its Operations Manual on the protocols and briefing requirements for transfer of PF and PM roles during a mission. [2021-041]
hat CHC Ireland should ensure that it has in place a FRMS based on scientific principles, which takes advantage of modern techniques such as bio-mathematical analysis of roster patterns, is known to all its crew members and encourages the reporting of fatigue related issues. [2021-042]
that the Irish Aviation Authority should review the Operator's 24-hour SAR shift pattern to ensure that it adequately accounts for concerns arising from published research on human performance and that the Operator's FRMS and SAR variation to Aeronautical Notice O.58 provide appropriate levels of safety and protection for crews. [2021-043] 
that CHC Ireland should review its training syllabi and operations manuals to increase crew awareness of automation and cognitive bias, and as far as possible to provide strategies for recognising and combating these threats. [2021-044]
The 464 page Final Report of the Investigation was published on 5 November 2021. 
Related Articles