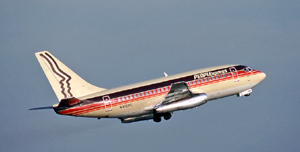 The initial model of the B737 family was the 737-100. It was launched in 1968. The 737-100 was rolled out in 1967 and entered service with Lufthansa in 1968. No 737-100s remain in commercial service.
For more information, see Boeing's B737 family specifications.
Powerplant:
2 x P&W JT8D-7 (62.3 kN) turbofans.
Indicative Performance Data
Initial Climb (to 5000 ft)
Initial Descent (to FL240)