CESSNA 550 Citation Bravo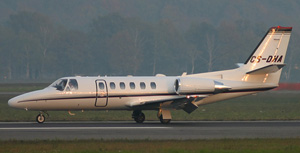 Small to mid-size corporate jet. In service since 1978 (S2 since 1984, Bravo since 1997). Stretched Citation development, with more powerful engines, larger fuel tankage and increased wing span. Single pilot version CESSNA 551 Citation 2Sp. Replaced by CESSNA S550 Citation S2 in 1984. Returned to production in late 1985.
New version: CESSNA 552 Citation Bravo, with more powerful engines and modern avionics. Bravo: MTOW: 6,712 kg.
Powerplant
Citation 2: 2 x 11.12 kN P&W JT15D-4B turbofans.
Engine Model(s)
Pratt & Whitney Canada JT15D
Pratt & Whitney Canada PW500
Indicative Performance Data
Initial Climb (to 5000 ft)
Initial Descent (to FL240)
Accidents & Serious Incidents involving