CESSNA 560 Citation 5 Ultra
CESSNA UC-35 Citation Encore
CESSNA OT-47 Citation Ultra
CESSNA 560 Citation Encore
CESSNA 560 Citation Ultra
CESSNA UC-35 Citation Ultra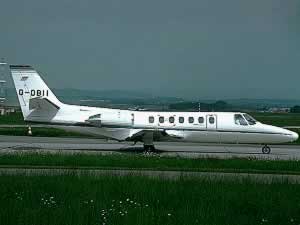 Small to mid-size corporate jet. In service since 1989 (Ultra since 1994, Encore since 2000). Stretched development of CESSNA 550 Citation 2 with smaller fuselage and more powerful engines. Production switched to the modernized Citation Ultra. New more powerful development Encore with updated interior and improved systems.
Ultra: MTOW 7,394 kg Encore: MTOW 7,544 kg
Powerplant
Citation 5: 2 x 12.89 kN P&W JT15D-5A turbofans.
Engine Model(s)
Pratt & Whitney Canada JT15D
Pratt & Whitney Canada PW500
Indicative Performance Data
Initial Climb (to 5000 ft)
Initial Descent (to FL240)
Accidents & Serious Incidents involving