Aerodrome Reference Code:
Position:
Both sides of rear fuselage
FOKKER F-28 Fellowship
FOKKER Fellowship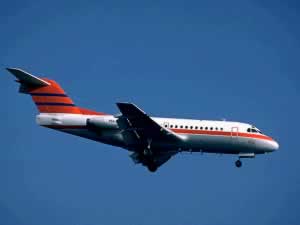 Short range regional airliner. In service since 1969. Developed to complete the F-27 Friendship turboprop airliner with a higher performance and larger capacity. A family of aircraft with versions F-28-1000/2000/3000/4000/6000 with different performance regarding approach category and weight data. Also used in military service as VIP and government transport. F-28-4000: length 29,61 m.
Powerplant:
3000/4000: 2 x 44 kN RR RB 183-2 Spey-Mk555-15 P turbofans.
Indicative Performance Data
Initial Climb (to 5000 ft)
Initial Descent (to FL240)
Accidents & Serious Incidents involving