NORTHROP F-5 Freedom Fighter
NORTHROP N-156F Freedom Fighter
NORTHROP N-156C Freedom Fighter
NORTHROP F-5 Freedom Fighter
NORTHROP RF-5 Freedom Fighter
KOREAN AIR F-5 Chegoong-Ho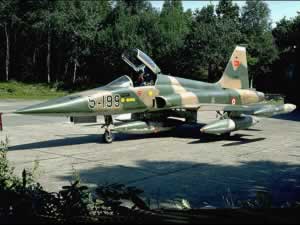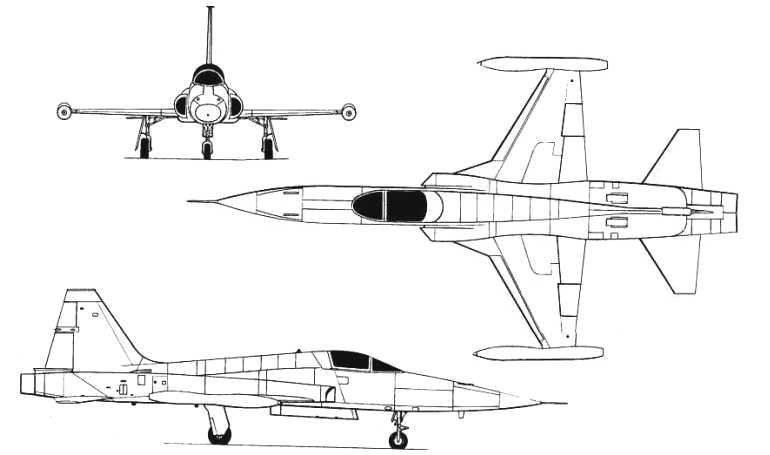 Light weight multi role fighter. In service since 1969 (F-5E/F since 1972). Built in several versions:
F-5A (single seat) and F-5B (two seats) initial version,
CF-5A and CF-5D for Canadian Air Force,
NF-5A/B for Royal Netherlands Air Force,
SF-5 licence production by CASA in Spain and RF-5A reconnaissance derived.
Improved development F-5E/F and RF-5E Tiger 2 with more powerful engines, wing tips and modern avionics. In service with Norwegian, Spanish, Greek and Turkish Air Forces as well as Middle East, Far East, African and South American Air Forces. Still serves as aggressor aircraft with US Navy and Marines. Max Speed: 917kts (Mach 1.6)
Powerplant
A/B: 2 x 12.33 kN GE J85-GE-13 (with afterburner 2 x 18.5 kN) turbojets.
Indicative Performance Data
Initial Climb (to 5000 ft)
Initial Descent (to FL240)