GRUMMAN G73T Turbo Mallard
Position:
(Front) Wing leading mounted
GRUMMAN G-73T Turbo Mallard
GRUMMAN Turbo Mallard
FRAKES G-73T Turbo Mallard
FRAKES Turbo Mallard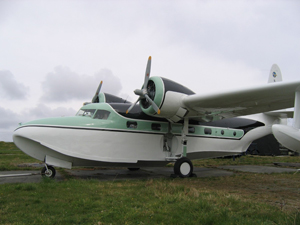 The Grumman G-73 Mallard is a large, twin engine amphibious aircraft. Many have been modified by replacing the original Pratt & Whitney Wasp H radial engines with modern turboprop engines. Manufactured from 1946 to 1951.
Powerplant:
2 × Pratt & Whitney PT6A-34, 600 hp each.
Engine Model:
Pratt & Whitney Canada PT6
Indicative Performance Data
Initial Climb (to 5000 ft)
Initial Descent (to FL240)
Accidents & Serious Incidents involving