The Importance of Oxygen to Sustain Life
The Human body is dependent on oxygen. As the altitude increases, the consequent decrease in pressure reduces the amount of oxygen the human body can absorb when breathing. To enable flight at high altitudes either the aircraft cabin has to be pressurised, to replicate the pressure at a lower altitude, or the occupants of the aircraft have to be given supplemental oxygen. At the cruising levels commonly flown by commercial air transport aircraft, loss of pressurisation can quickly lead to incapacitation. The higher the altitude, the lower the Time of Useful Consciousness: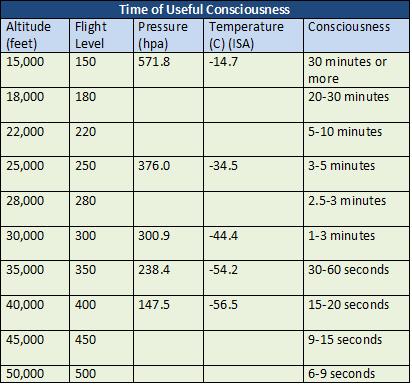 Description
This article describes the systems onboard commercial transport aircraft designed to supply supplemental oxygen to crew and passengers when required to sustain life.
Oxygen systems are designed to store or to generate a supply of pure oxygen and to regulate, dilute as required and then distribute that oxygen to crew or passengers. Oxygen systems are installed in many military aircraft and in most commercial and business aircraft types. Depending upon the type and the role of the aircraft concerned, the oxygen system(s) may be used for normal operations, to provide supplemental oxygen for specific situations or for provision of emergency oxygen in the event of smoke, fire, fumes or loss of pressurisation.
Regulations
National regulations for the provision and use of supplemental or emergency oxygen systems are based on the guidance provided in Annex 6 of the International Civil Aviation Organisation (ICAO) Standards and Recommended Practices (SARPS). In general terms, this guidance first differentiates between pressurised and non-pressurised aircraft and then provides specific requirements based on the altitude at which flight is to be conducted. Some of the more salient items found in the ICAO guidance on oxygen are as follows:
Note 1: Approximate hPa-altitude equivalents: 700 hPa = 10,000', 620 hPa = 13,000', 376 hPa = 25,000'
Note 2: National or Regional Authorities use the ICAO guidance as the basis for their regulations. However, these regulations may be more or less restrictive than the SARPS. Consult the appropriate documentation provided by the aircraft State of Registry for specific criteria.
Equipment
Flight Deck
Passenger Compartment
Discussion
As per the information presented above, in non-pressurised aircraft, the oxygen system is primarily intended to provide supplemental oxygen when required by altitude and time of exposure. It can also be used, when required, for protection in the event of smoke or fumes. As decompression is not an issue in a non-pressurised aircraft, time of useful consciousness concerns are much less significant and quick donning masks are generally not installed.
Conversely, the primary purpose of oxygen systems installed in a pressurised aircraft is for emergency use in the event of a decompression. Flight deck oxygen equipment will also be used for fume, smoke and fire events and, dependant upon specifics of the equipment and the state of registry, for supplemental oxygen during certain normal flight profiles. As an example, if quick donning masks are not available, one pilot will be required to wear a mask during flight at altitudes above 25,000'. Above 41,000', the regulations of most states require that one pilot wear an oxygen mask at all times, even when quick donning masks are fitted. This is due to the very limited time of useful consciousness and the associated risk of incapacitation.
Other oxygen sources carried on pressurised commercial aircraft include supplemental oxygen tank and masks units for medical use and oxygen generator equipped smoke hoods for crew use in the event that it is necessary to fight an on board fire. Depending upon individual passenger medical needs, supplemental oxygen tanks for planned use during the flight may also be carried. Arrangements for these tanks need to be made in advance with the carrier by the passenger concerned.
Accident & Incidents
Events held on the SKYbrary A&I database which include reference to the oxygen system include:
Related Articles