Annual Safety Review - EASA
Annual Safety Review - EASA
Description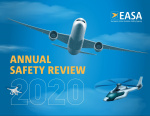 The Annual Safety Review is published by EASA to inform the European public of the general safety level in the field of civil aviation. The Agency provides this review on an annual basis as required by Article 15(4) of Regulation (EC) No 216/2008 of the European Parliament and of the Council of 20 February 2008.
The EASA Annual safety review presents statistics on European and worldwide civil aviation safety. The statistics are grouped according to type of operation, for instance commercial air transport, and aircraft category, such as aeroplanes, helicopters, general aviation, and gliders.
To prepare the reviews EASA had access to accident information collected by the International Civil Aviation Organisation (ICAO) through its Accident/Incident Data Reporting (ADREP) system as well as accident statistics published by ICAO.
Related Articles
Further Reading
Links
Copies of the Annual Safety Review are available in a number of different European languages and can be downloaded from the EASA website