Ditching: Rotary Wing Aircraft
Ditching: Rotary Wing Aircraft
Definition
The controlled emergency landing of a helicopter on water.
A Difficult and Demanding Manoeuvre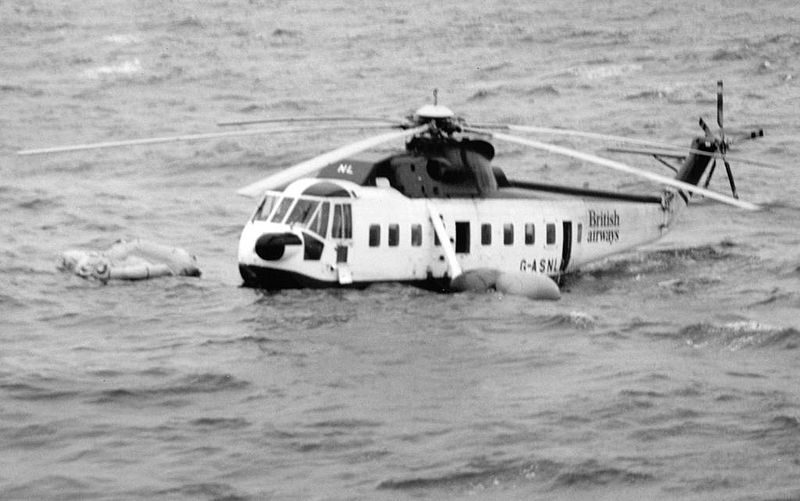 British Airways helicopter Sikorsky S-61N, G-ASNL ditched in the North Sea, 75 nm North-east of Aberdeen on 11 March 1983. Source: Wikicommons, Author: Morrispeter
Ditching an aircraft into the sea, a river, or a lake, is a manoeuvre that, by definition, cannot be practiced and may be extremely hazardous. It is only contemplated when no other realistic option remains in an emergency or, in the rotary case, imminent emergency situation.
For helicopters, ditching may be prompted by a sudden-onset emergency or where continued safe flight to the nearest designated landing location or even the nearest suitable land is not assured; it will often be accompanied by considerable structural conditions outside of the "norm", such as tail rotor failures or very high vibrations. All of these contribute to the already considerable pressure of getting the aircraft down and evacuating it.
Even if the Sea State is slight, there is a strong possibility that a helicopter will fail to remain upright and/or will sink rapidly. If the occupants survive the ditching then, even with the benefit of protective clothing and equipment, in cold waters they may succumb to cold shock or hypothermia before they are rescued.
Scenarios
A controlled ditching might be made in anticipation of a loss of control or its actual onset. Other potential causes of an impending loss of control which could prompt a decision to ditch include uncontrollable and developing fire or structural failure and, for rotary wing aircraft over water, indications of imminent power transmission failure or loss of rotor integrity for which the procedural response is 'Land Immediately'. Rotary wing aircraft may also need to 'land immediately' for other reasons, including the failure of a single engine.
Considerations when Ditching a Rotary Wing Aircraft ("Power On")
The majority of rotary wing ditchings, especially those carried out in hostile environments such as the North Sea or off Newfoundland in Canada will be those of transport helicopters or SAR support for those and other operations where the helicopter involved has type certification which relates to ditching. Such helicopters will include a number of Quick Reference Handbook (QRH) responses to malfunctions which, although power will still be available require "Land Immediately rather than "Land as soon as possible". The following generic remarks are focused on this scenario rather than the wider case because it predominates in respect of both survivable and fatal accidents on account of the high proportion of risk exposure which it represents. Always bear in mind that there is much to be learned from the investigation reports which usually follow both ditchings and survivable water impacts. Some of these may be found in a listing of helicopter accident and serious incident reports.
Whilst there are many variables in any evolving incident, a controlled "power on" ditching will be considerably easier than a "power off" autorotation to the sea; an autorotation to an angry sea in the dark needs immediate transition to trained automatic actions, as time is extremely limited. Ultimately, success will be determined by the rigorous and comprehensive training that should be undertaken on a regular basis. It cannot be stressed enough that thorough and ongoing training is the key to survival in these (and most) circumstances, and that crews should regularly take the opportunity to discuss situations and procedures when possible.
Few emergencies ever go according the script, and ditchings are no different. The priority should be, as always, "fly the aircraft"; training and procedure will get you into the water in one piece. Helicopters often fly at relatively low altitudes, and generally a decision to ditch (apart from impending fuel starvation) tends to be reached fairly quickly as the aircraft malfunctions around us. Good CRM and repeated training, is the key.
As it is for crew, so it should be for our passengers. Inverted in a hull rapidly filling with water is not the time to ponder the correct way to activate one's re-breather or open and exit with window/hatch. In an ideal world this should be done without conscious thought, as a direct result once again from good training and a positive will to survive.
Facilitating Rescue after ditching
The Ditching
Post Ditching Survival
Many aspects of post ditching survival are covered by the actions described above. Training and procedure may get you down into the water safely; leadership and strong mental attitude is needed to get out. The environment the survivors will now find themselves in will certainly be unfamiliar and unexpected and may be extremely hostile. Continued survival will depend on the water and air temperature, the wind and sea state, the physical and mental condition of individuals, the clothing worn and the availability of useful survival equipment amongst many other things. Swift location and rescue may well be of crucial importance. For all occupants of rotary wing offshore flights, prior familiarisation with and recurrent training in survival equipment, evacuation procedures and maritime survival is of paramount importance; there will not be an opportunity to practice in a live accident. The references in 'Further Reading' below offer considerable discussion of the issues involved in survival following a ditching.
Training for Ditching and the Aftermath
Full Flight Simulator practice of ditching by pilots is impossible because there is no data with which to meaningfully program the simulator. For rotary wing crew regularly operating offshore and their passengers, realistic practice of some aspects of evacuation and post evacuation scenarios is available and usually is a significant part of training/familiarisation. Regular training in helicopter underwater escape should continue throughout aircrew's careers and is equally important for passengers. Although all helicopters operating offshore public transport are likely to be equipped with emergency floatation systems and Automatic Deployment Emergency Locator Beacons and the occupants provided with some form of survival suit and emergency breathing equipment, this preparation for survival after ditching addresses the need for prompt evacuation before any capsize of the floating helicopter. The installation of floats towards the top of the fuselage could clearly sustain a helicopter that had rolled on the water 90° to the vertical. However, such modifications carry significant technical challenge to avoid the risk of an inadvertent inflation interfering with the main rotor and creating an accident in the first place.
As has already been stressed, for the rotary wing case, much of the training / familiarisation for the aftermath of ditching is of equal relevance to survivors of a water impact accident such as the unintended descent into the sea of a Super Puma Helicopter near Sumburgh, Shetland Isles in 2013 following which, UK CAA introduced new regulations regarding window size, the number and location of passengers and the placement of XBR (extra broad) passengers within the cabin.
Examples of Rotary Wing aircraft Ditchings
Related Articles
Further Reading