Implementation dates
The due dates for national implementation of ESARRs are as follows:
ESARR
Title
Implementation Dates
ESARR1
Safety Oversight in ATM
05-Nov-2007
ESARR2
Reporting and Assessment of Safety Occurrences in ATM
01-Jan-2000 (Phase 1)

01-Jan-2001 (Phase 2)

01-Jan-2002 (Phase 3)

ESARR3
Use of Safety Management Systems (SMS) by ATM Service Providers
13-Jul-2003
ESARR4
Risk Assessment and Mitigation in ATM
05-Apr-2004
ESARR5
ATM Services' Personnel
10-Nov-2003 (ATCO & General)

11-Apr-2005 (ATS engineering and technical)

ESARR6
Software in ATM systems
06-Nov-2006
Implementation support
A variety of means and tools have been developed to support the implementation of ESARRs by national safety regulatory authorities and ATM service providers:
SRC advisory material provided in the form of explanatory material, guidance material and other supporting documents.
Standards, methodologies, specifications and other materials developed by EUROCONTROL Agency (Safety, Security and Human Factors Business Division) or by other organisations, and recognised by SRC as acceptable means of compliance (AMC). The AMC is not mandatory for implementation.
Dedicated awareness workshops organised by the EUROCONTROL Safety Regulation Unit (SRU) together with the EUROCONTROL Agency.
Specific developments and projects within the framework of the European Strategic Safety Action Plan and European Safety Programme
Specific projects run by EUROCONTROL Agency Safety Enhancement Business Division.
The training programme for safety regulatory and service providers personnel delivered by EUROCONTROL Institute of Air Navigation Services
Implementation monitoring
To ensure the uniform implementation of ESARRs across the European Civil Aviation Conference (ECAC) the EUROCONTROL Permanent Commission established in 2002 the EUROCONTROL ESARR implementation monitoring and support (ESIMS) programme. Implementation monitoring is done through safety oversight audits in States. EUROCONTROL audit teams are composed of national safety regulators' representatives and EUROCONTROL SRU staff.
Following agreement between International Civil Aviation Organisation (ICAO) and EUROCONTROL the respective safety oversight programmes (ICAO Universal Safety Oversight Audit Programme and ESARR Implementation Monitoring and Support (ESIMS)) are being coordinated and performed in a consistent and complementary manner.
In addition, the European Convergence & Implementation Plan (ECIP) is a medium term planning tool used for 5-year planning and monitoring the implementation of ESARRs in the ECAC states. The annual ECIP reporting and update process regarding the implementation of ESARRs is consistent with the ESIMS programme planning and execution.
Implementation by Regulatory Authorities
The regulatory authorities of ECAC states report through the ECIP process and the ESIMS programme the progress made in the implementation of ESARRs. Overall, there has been a regular progress in the implementation and enforcement of ESARRs at national level over the reporting year.
The figure below represents the level of implementation of ESARRs as reported by States to the EUROCONTROL SRC. It is based on the information provided by 19 states out of 40 participating to the ESIMS programme.
ESARR 1: No EUROCONTROL State and no EU State has implemented all of ESARR 1, while only three EU States state that they have implemented more than 80% of ESARR 1. Most States are waiting for the EC to transpose ESARR 1 into EC legislation.
ESARR 2: Eight EUROCONTROL States (and six in the EU) confirm they have implemented all ESARR 2 requirements.
Sixteen EUROCONTROL States (and thirteen in the EU) have implemented more than 80% of ESARR 2. This represents an improvement, but significant progress is urgently needed at national level to enforce ESARR 2, as well as related EC Directives 42/2003/EC and 56/1994/EC in EU Member States.
ESARRs 3 & 4 Eleven EUROCONTROL States report that they have fully implemented ESARR 3 and six report that they have implemented ESARR 4. Most other EUROCONTROL Member States have implemented more than 80% of ESARRs 3 and 4.
ESARR 5 Two EUROCONTROL States, including one EU Member State, report that they have implemented all of ESARR 5, while fourteen EUROCONTROL States report to have implemented more than 80% of ESARR 5 provisions.
ESARR 6 Two EUROCONTROL States report that they have implemented ESARR 6.
Implementation by Air Navigation Service Providers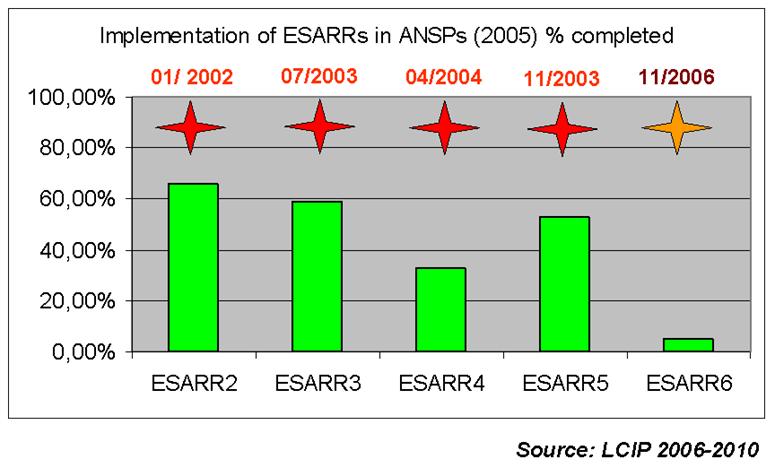 As shown above, the implementation of the ESARRs by ANSPs is, in the case of some ESARRs, in advance of the publication of relevant regulation by the state regulatory authority. However, the overall implementation of the ESARRs is lagging behind schedule. This is particularly the case for ESARR4 where ANSPs report problems with the quantitative aspects of the regulation.
The publication of the Common Requirements and the certification process may put impetus in the coming year to the implementation of the relevant ESARRs.
Issues related to ESARRs implementation
The audits conducted within the ESIMS programme enabled the identification of the constraints and problematic areas for ESARR implementation in the ECAC area.
The main issues related to ESARRs implementation by States or national safety regulatory authorities are:
Inconsistencies with Single European Sky (SES) Common Requirements (CRs);
Legislative impediments preventing establishment of 'non-punitive' environment;
Co-existence of non-harmonised safety regulatory approaches;
Lack of fully developed harmonised severity and risk classification schemes;
Resources and staffing level not at the optimal level;
Non-availability of the required expertise.
The main issues related to ESARRs implementation by ATM providers are:
Reporting and assessment of safety occurrences, and exchange of safety data impeded by the legal framework in some European countries;
Justification of safety of externally provided services;
Implementation of quantified ESARR 4 compliant risk assessment;
Difficulties in obtaining and/or delivering the evidence meeting the applicable software assurance level requirements for newly implemented and changed ATM system software;
Scope of SMS requirements for small organisations and units;
Resources and staffing not at the optimal level;
Military controllers licensing;
Non-availability of the required expertise;
Cultural change issues.
Transposition of ESARRs in EC legislation
A number of key ESARR provisions have been transposed into Community Law. This has been achieved through the CRs for the provision air navigation services, as well as EC Directives in the fields of controller licensing and incident investigation and analysis.
In accordance with the SES CRs, the Commission are required to identify and adopt the EUROCONTROL safety regulatory requirements (ESARRs) and any subsequent amendments to those requirements.
Substantial parts of ESARR 3, 4 and 5 are effectively dealt with in the SES CRs. However, current inconsistencies and differences in scope between SES CRs on safety and ESARRs could lead to discrepancies and complicate the implementation of the CRs and ESARRs at national level.
Consistency with ICAO Standards and Recommended Practices (SARPS)
ESARRs further expand upon ICAO SARPS or address areas not covered by ICAO annexes.
The EUROCONTROL SRC has reviewed the need for States to file differences to ICAO standards as a consequence of implementing ESARRs. Only one case has been identified on the understanding that 'where national regulations of States call for compliance with procedures that are not identical but essentially the same… no difference should be reported…' . It is recommended that States, having implemented ESARR 2, need to file a difference to the provisions of ICAO Annex 13, Chapter 8 only if they have not implemented a mandatory incident reporting system or if a voluntary system does not have appropriate non-punitive provisions.
Further Reading
EUROCONTROL:
Detailed information on ESARRs and related implementation guidance material can be found on EUROCONTROL website: http://www.eurocontrol.int/articles/src-publications