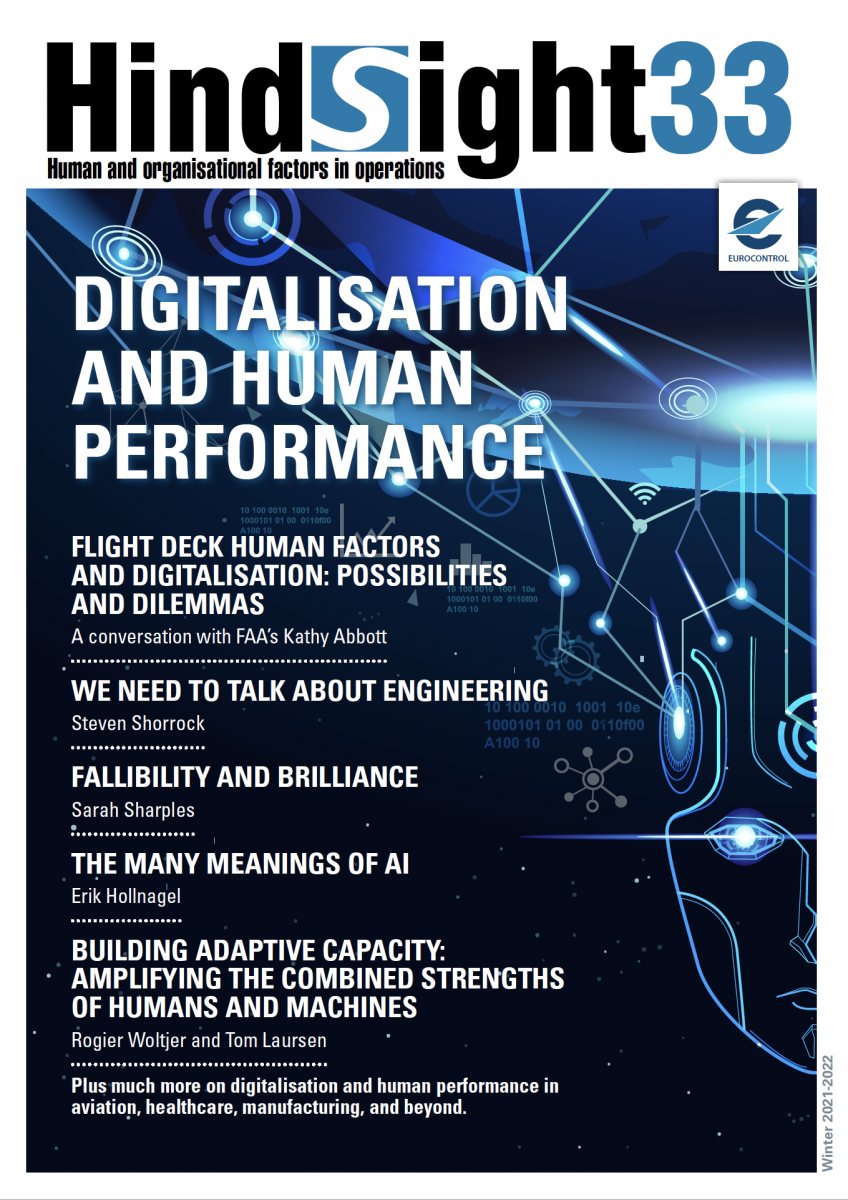 Download the full HindSight 33 magazine here
Published in December 2021, HindSight 33 focused on the theme of Digitalisation and Human Performance.
Welcome
Welcome to issue 33 of EUROCONTROL's HindSight magazine, the magazine on human and organisational factors in operations, in air traffic management and beyond.
This issue is on the theme of Digitalisation and Human Performance. It includes a wide variety of articles from front-line staff and specialists in technology, change, safety, human factors, and human and organisational performance in aviation. There are also insights from healthcare and pharmaceutical manufacturing. The articles reflect the possibilities for digitalisation and human performance, and the challenges for individuals, teams, organisations, regulators, industries, and societies.
The authors present a variety of perspectives, some of which are quite different. This is an important aspect of HindSight magazine. Some focus more on the possibilities, while others focus more on the pitfalls. It is important that we consider and reconcile these perspectives. As noted in the Editorial, each of us has different attitudes and favoured strategies when it comes to the development and deployment of advanced technology in operations. Taking just one narrow perspective is likely to be problematic.
Digitalisation and human performance are interdependent. We know from decades of research and practice that the two cannot be separated. Ultimately, the success of efforts toward digitalisation depend on people in many roles – technical, operational, human factors, safety, quality, security, training, recruitment, and change management, to name a few.
Special thanks are extended to the authors and the operational reviewers, who help to ensure that HindSight magazine is relevant, interesting and useful. While the primary readers are operational staff, especially those involved in air traffic management, it is read much more widely, by different people in different sectors.
We hope you enjoy reading this issue of HindSight magazine. Please spread the word to others who might be interested in digitalisation and human performance in aviation and beyond.
HindSight 33 Articles
Foreword
Editorial
Op-ed
The Long Read
Views from the Ground and Air
Views from Elsewhere
The Lighter Side
EUROCONTROL News
See all editions of HindSight magazine
Subscriptions