Mediterranean-influenced hot-summer humid continental climate (Dsa)
Mediterranean-influenced hot-summer humid continental climate (Dsa)
Dsa: D = Snow  s = Summer dry a = Hot summer
Description
Mediterranean-influenced hot-summer humid continental climate; these climates are characterized by extreme seasonal changes, winters are very cold with the coldest month averaging below 0 °C. The average temperature of the warmest month is above 22 °C and at least four months average above 10 °C. At least three times as much precipitation falls in the wettest month of winter as in the driest month of summer, and the driest month of summer receives less than 30 mm (1.2 in).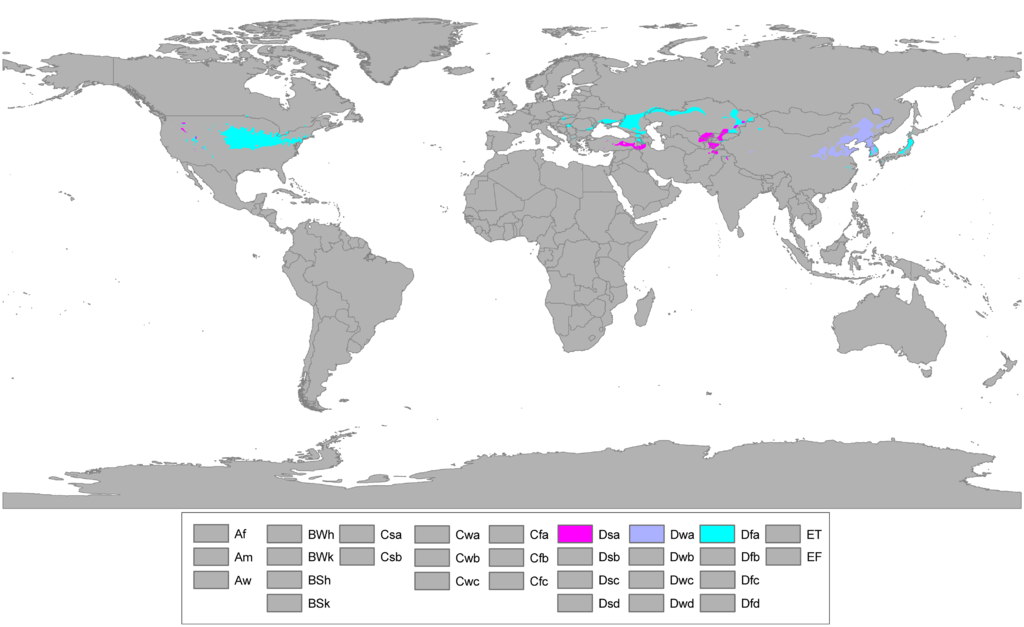 Köppen–Geiger climate classification map for Humid continental climates: Hot summer subtype (Dfa, Dwa, Dsa) - source: wikicommons, authors:  Beck, H.E., Zimmermann, N. E., McVicar, T. R., Vergopolan, N., Berg, A., & Wood, E. F., 2018
Flight safety and planning considerations
Snow fall and risk of runway contamination and airframe icing in the winter months when most precipitation occurs. High temperatures in the summer may result in performance problems. The summer weather is generally more stable than the winter months but there may be significant thunderstorms in the summer.
Related articles