Monsoon influenced hot-summer humid continental climate (Dwa)
Monsoon influenced hot-summer humid continental climate (Dwa)
Dwa: D = Snow  w = Winter dry a = Hot summer
Description
Monsoon-influenced hot-summer humid continental climate; these climates are characterized by extreme seasonal changes. Winters are very cold with the coldest month averaging below 0 °C. Summers are hot with at least one month's average temperature above 22 °C, and at least four months averaging above 10 °C. Seasonal changes in precipitation are also extreme, with  tropical monsoon conditions producing excessive rainfall in the summer. At least ten times as much rain falls in the wettest month of summer as in the driest month of winter (alternative definition is 70% or more of average annual precipitation is received in the warmest six months).
This climatic region is found in the coastal and near coastal regions of east central Asia. Examples of airports with Dwa climate include Gimpo, Seoul, South Korea, Pyongyang, North Korea,  and Dali, Yunnan, China.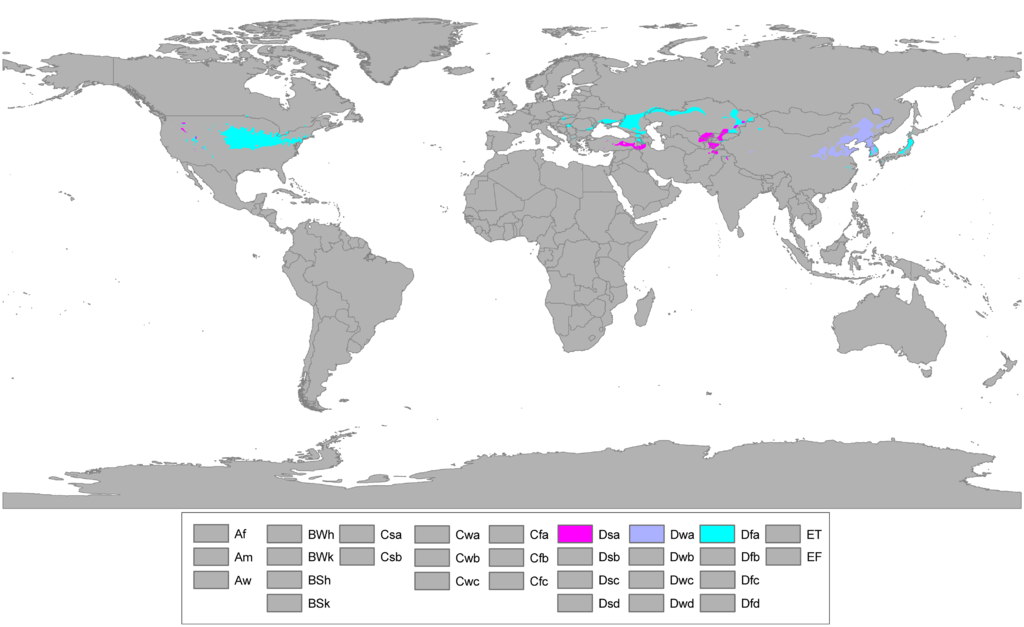 Köppen–Geiger climate classification map for Humid continental climates: Hot summer subtype (Dfa, Dwa, Dsa) - source: wikicommons, authors:  Beck, H.E., Zimmermann, N. E., McVicar, T. R., Vergopolan, N., Berg, A., & Wood, E. F., 2018
Flight safety and planning considerations
Cold, windy but dry winters - can be very cold in winter so be mindful of altimeter temperature error correction requirements. Hot temperatures and frequent rain in summer months can be associated with performance constraints, poor visibility and contaminated (wet) runways.
Related articles