Definition
Remote Tower Service (RTS) is a system which allows aerodrome Air Traffic Control (ATC) or Flight Information Service (FIS) to be provided from a location other than the aerodrome whilst maintaining a level of operational safety which is equivalent to that achievable using a manned Tower at the aerodrome to oversee both air and ground movements.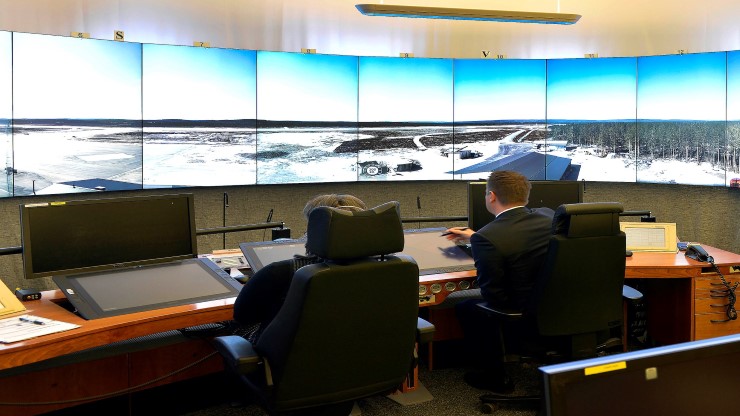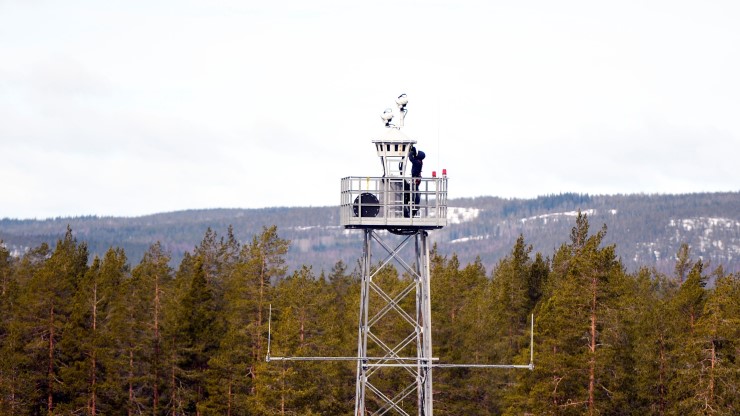 Description
Aerodrome Air Traffic Service (ATS) from a remote position is facilitated by the streaming in real time of the view from an assembly of fixed and moveable high definition digital video cameras situated at the remotely controlled aerodrome. This encrypted signal is used to replicate a view of the aerodrome and its vicinity onto a 360° LCD screen which is equivalent to reality but arguably better than the sector-limited view which would exist from a Visual Control Room on the aerodrome. Fixed cameras provide the main display and any necessary supplementary ones such as ramp close-ups and there are also one or more moveable cameras which can be directed as required from the RTS position replicating the way binoculars might be used in a conventional Tower. This visual situational awareness for the controller or flight information service operator is supplemented by a range of environmental sensors and microphones capturing sound and meteorological or other operational data. The system also easily facilitates a switch in ATS between ATC and FIS if required.
Whilst the initial focus has been on day VMC operations, night and low visibility operations can also be supported with the installation of additional sensing equipment and use of infrared or night-vision lenses and three dimensionally-augmented reality overlays. If the circumstances justify it, an A-SMGCS can be installed to complement the RTS visual display available at the RTS location.
On 3 July 2015, EASA issued guidance material on the implementation of ATS using a RTS for the single airport case only. This notes the criticality to an RTS of the means of communication between the location where ATS is being provided and the place where it is being provided from. The importance of ensuring redundancy needs, especially if these communications rely on a third party provider, is stressed. The AMC includes separate lists of 'operational hazards' for RTS provision of aerodrome ATC and FIS and their operational effects a well as a checklist for RTS implementation approval. Ongoing work by EUROCAE WG-100 to develop a Minimum Aviation System Performance Specification (MASPS) for the visual presentation which RTS requires is noted and related Guidance Material has also been issued by EASA under Part ATCO in respect of the training and licensing of controllers who are to work in RTS positions.
Despite the currently-restricted scope of the EASA AMC, it is widely envisaged that some of the benefits of RTS may derive from its provision at more than one aerodrome from a single remote location, in which case that location is described as a Remote Tower Centre (RTC). Such an arrangement provides considerable flexibility, both pre-planned and ad hoc, in the provision of air traffic service in areas with a number of relatively low-traffic aerodromes or where the requirement for the provision of ATS may be unpredictable - diversions, SAR or civil State aircraft use for example.
Introduction of Remote Tower Service
Following a lead in support for the development of the Remote Tower concept by both the German ANSP Deutsche Flugsicherung (DFS), and the Swedish ANSP Luftfatsverket (LFV) over many years, the world's first operational approval for routine provision of Remote Tower Service was given to Swedish ANSP LFV by the Swedish Transport Agency Transportstyrelsen on 31 October 2014. This approval was then first used for ATS at Örnsköldsvik Airport which, since 21 April 2015, has been provided from Sundsvall, which is some 80 NM to the south west. An extension of the system to two other aerodromes also controlled from Sundsvall will make the latter the world's first RTC. The equipment being used is manufactured by Saab which continues to work with LFV to jointly promote the installation and operation of the system both within and outside Sweden.
Aided by SJU funding under the SESAR Programme, the Saab system is to be installed at the Irish airports at Cork and Shannon by the Irish ANSP the Irish Aviation Authority and operated as a SESAR Large Scale Demonstration Project, in conjunction with the Dublin Airport Authority and Stobart Air. Both airports will be controlled from a RTC at Dublin Airport and it is planned to commence operational trials in the first half of 2016. Elsewhere, German ANSP Deutsche Flugsicherung (DFS), which was also instrumental in developing the RTS concept with operational trials at Dresden, is planning to introduce a similar system at Saarbrücken Airport in 2017. This will be provided by Austrian company Frequentis and will allow Saarbrücken to be controlled from an RTC at Leipzig with both Erfurt and Dresden Airports to be subsequently also converted to RTS and linked to the same RTC.
Supplementary Use of RTS
The RTS method is also seen as being a potential alternative to the construction of a new control tower when airport expansion such as the addition of a new runway creates an obstructed view of the new infrastructure.
Contingency Use of RTS
Some larger airports, for example London Heathrow, currently have contingency arrangements to cover any temporary non-availability of the normal TWR/GND control facility due to fire, technical failure or a security issue. However, these alternatives have no replication of the visual element and are unable to continue service at the normal level - the Heathrow system is believed to be capable of handling about 80% of normal traffic - so the additional functionality of RTS is seen as a way of increasing the capacity of such a 'standby' system to near 100% of normal.
RTS Overview
The application of RTS and an interesting first RPAS use under RTS air traffic service in uncontrolled airspace is described in this video:
Further Reading
EASA
Others