Safety Culture Enhancement Toolbox for ATM
Safety Culture Enhancement Toolbox for ATM
Important note: The toolkit has been withdrawn by the author. This article is kept in the SKYbrary archive for historical reasons only.
Safety Culture in Air Traffic Management
Recent years have witnessed a growing concern over the issue of Safety Culture within the ATM industry. The continuing safety management efforts of Air Navigation Service Providers (ANSPs), seeking to guarantee safe behaviours, have identified a need for an in-depth understanding of Safety Culture, together with an understanding of their ANSP's strengths and weaknesses in this area. This calls for a robust Safety Culture measurement and improvement process.
Safety Culture Enhancement Toolbox
The Safety Culture Enhancement Toolbox provides information and practical advice to help ANSPs understand, assess and enhance Safety Culture within their organisation. Its main aim is to answer the following frequently asked questions:
"What is meant by Safety Culture" and
"How can Safety Culture be measured and improved?"
This Safety Culture toolbox features an set of processes and guidance, based on extensive research and activities conducted by EUROCONTROL since 2005. The toolbox will be further enhanced over time drawing on ANSP best practices and experiences, as well as lessons learned from other industrial domains.
Toolbox Framework
The Toolbox comprises four parts.
Part A : Understanding the concept of Safety Culture
Part B : Measuring Safety Culture
Part C : Improving Safety Culture
Part D : Case studies and success stories from ANSPs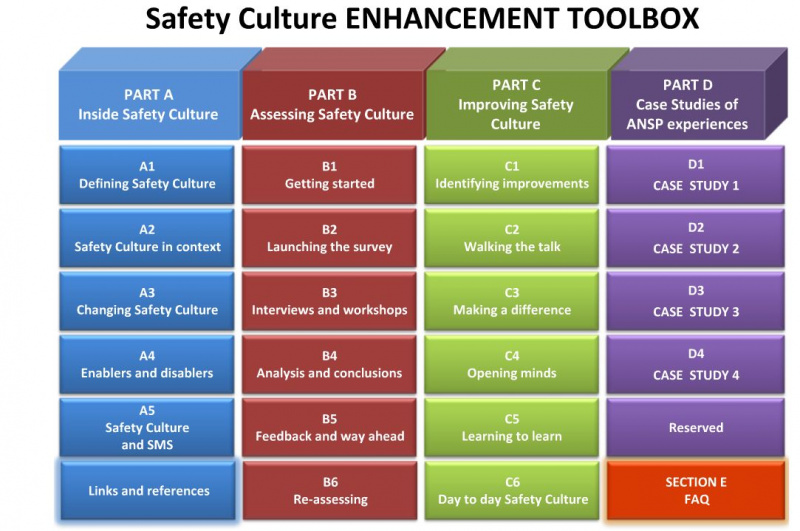 To access the Safety Culture Enhancement Toolbox click here
Note also that the Safety Culture Enhancement Toolbox can be accessed directly from the SKYbrary home page - see Toolkits - Safety culture in ATM at the bottom right of the page.
Related Articles