Definition
Service Continuity is the availability of suitable arrangements allowing alternate air navigation services (ANS) services of an agreed quality of service to be readily activated when a long-term disruption of normal service provision is anticipated. Service Continuity is also characterised by containing the impact and duration of disruption of ANS critical services and the ability to restore a defined service level (capacity) with due priority.
Objective
The Service Continuity stage considers those actions that will facilitate a move towards longer term contingency operations. This includes issues related to the relocation of staff, where appropriate, and the deployment of fallback systems. It also aims to support the optimisation of service provision in contingency conditions such that capacity can be increased gradually to the levels agreed previously with end users and States authorities.
Description
Contingency policy sets out the organisation's attitude towards contingency and states the overall contingency goals and objectives. It should be explicit about the scope of contingency within the organisation, e.g. whether it wishes to include the provision of service continuity or limit provision to 'fail to safe' modes of operation. Service continuity is a key phase within the overall generic contingency lifecycle.
The planning processes involved in preparing for potential contingencies are illustrated in the following image.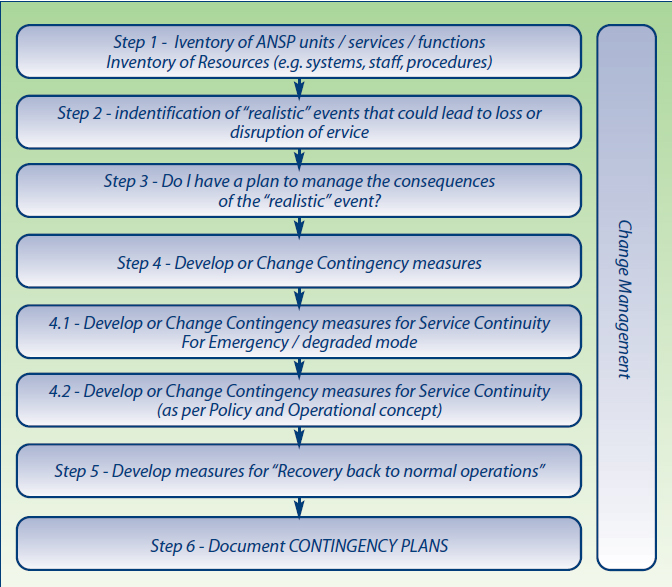 This shows how initial inventories and risk assessments inform the decision to invest in service continuity. It also shows how service continuity ultimately leads into recovery operations for the return to normal service.
Service Continuity Planning Considerations
Within the development of service continuity plans, it is possible to identify a number of other considerations.
After determining "Service Continuity" contingency strategy(ies), ANSPs have to develop appropriate actions/responses. The development of "Service Continuity" plans should be made in compliance with the ESARRs (ESARR4, ESARR5 and ESARR6). The following diagram providers an overview of these more detailed aspects of service continuity planning.
Related Articles
Further Reading