New Entrant Remote Tower ATCO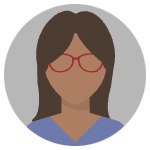 Patricia's Persona was developed to represent a student, adopter of new technologies and very keen on discovering new systems and applications, who has just received her initial remote tower controller training and is supposed to start working as a remote tower controller in her own city. Her training needs are expected to deal with the basic use of the remote tower systems, as for the technical skills, and with service orientation.
Information
Age: 23
Education/Expertise: initial tower controller training in a remote environment
Tasks
Manage traffic from the local airport to a radius of 3 to 30 miles out
Direct the movement of vehicles, including aircraft, on runways and taxiways.
Check flight plans
Give pilots clearance for takeoff or landing
Monitor activity such as runway occupancy, weather, and visibility in real time
Transfer control of departing flights to other traffic control centers and accept control of arriving flights
Inform pilots about weather, runway closures, and other critical information
Alert airport response staff in the event of an aircraft emergency
Main challenges in the workplace
Remote working
Multiple airport service
Loss of sound, loss of vibration and other environmental cues
Uncommon visualisation cues (360 view projected on 160,180, 240, etc.)
Desk job, sometimes alone
Switch between different airports views
High skill gaps and training needs in case of transfer to a physical tower
Interaction with OJTI who are less familiar than her with the remote environment
Roles and responsibilities
Monitoring and management of multiple and complex situations in parallel
Safe and efficient separation provision
Skills competences and study pathway
Study Pathway
The skilling study pathway developed for Patricia describes the formal training, technical skills and competencies that a new entrant rTower ATCO needs to acquire.
Communication

Definition

The ability to make all communications in a clear and concise way, use standard phraseology or non-standard phraseology, monitor the frequency and respond to pilots' calls or requests in time; obtain and verify acknowledgements and read-backs when required.

Knowledge (Knows/aware of / familiar with)

The principles of the communication process
The communication pitfalls
The impact of interferences on communications
The radiotelephony phraseology
How a clear and concise message looks like
Existence of communication styles
How to change communication style according to the situation
Technique of active listening

Behavioural markers (being able to)

Select appropriate mode of communication
Demonstrate effective verbal communication
Demonstrate effective communication in written, automated and other non-verbal communication
Demonstrate the ability to modify his/her style according to the receiver
Write messages according to protocol or in a clear and concise manner where protocol does not exist
Communicate relevant concerns and intentions
Coordination

Definition

The ability to manage coordination between personnel in operational positions and other positions and with other affected stakeholders.

Behavioural markers (being able to)

Coordinate with personnel in other operational stakeholders in a timely manner
Select coordination method based on circumstances, including urgency of coordination, status of facilities and prescribed procedures
Coordinate the movement, control and transfer of control for flights using the prescribed coordination procedures
Coordinate changes of status of operational facilities such as equipment, systems and functions
Coordinate changes of status of airspace and aerodrome resources
Use clear and concise terminology for verbal coordination
Use standard ATS message formats and protocol for non-verbal coordination
Use clear and concise non-standard coordination methods when required
Conduct effective briefings during position handover

Knowledge (Knows/aware of / familiar with)

How to select appropriate method of coordination
How to perform coordination
Problem solving and decision making

Definition

The ability to find and implement solutions for identified hazards and associated risks, make well timed decisions, set priorities correctly, take initiative and act accordingly.

Knowledge (Knows/aware of / familiar with)

Existing rules and the existing procedures
Possible solutions to apply in specific situations
Concept of priority and urgency
The priorities in specific situations
The impact on safety that some actions may have
Problem-solving techniques

Behavioural markers (being able to)

Determine possible solutions to an identified problem
Prioritize effectively
Manage risks effectively
Implement an appropriate solution to a problem
Evaluate possible outcomes of different control actions
Determine the situations that have the highest priority
Execute plan in a timely manner
Persevere in working through problems without impacting safety
Self management and continuous development

Definition

The ability to demonstrate personal attributes that improve performance and maintain active involvement in self-learning and self-development. It also consists in applying continuous learning in formal and informal ways through training, sharing, asking and receiving feedback.

Knowledge (Knows/aware of / familiar with)

Where to find info and support for improving his/her learning and development
How to recognize if a learning need occurs
How to facilitate his/her personal learning process
How to ask for objective feedback Techniques for assessing his/her learning How to accept and elaborate feedback

Behavioural markers (being able to)

Self-evaluate to improve performance
Use feedback to improve performance
Adapt to the demands of a situation as needed
Engage in continuous development activities
Situational awareness

Definition

The ability to comprehend the current operational situation and anticipate future events, absorb information to form an overall picture, consistently be able to form an overall traffic picture based on all information available, be able to selectively pick the right information needed for the overall picture and keep a clear overview of the situation by regularly scanning.

Knowledge (Knows/aware of / familiar with)

Perceptions' mechanisms
How to anticipate situations
Which information needs to be scanned
Factors that may reduce situational awareness
How to monitor ATC system and equipment' status
Meteorology and its impact on her/his area of responsibility

Behavioural markers (being able to)

Monitor the operational situation
Scan for specific or new information
Comprehend the operational situation
Anticipate the future situation
Recognize indications of reduced situational awareness
Scan the traffic and incorporate the background traffic during all traffic
Consistently have a complete overview of the traffic situation
Appreciate the effect and danger of hazardous meteorological phenomena.
Appreciate the effect and impact
Teamwork

Definition

The ability to operate as a team member building relationship based on trust and cooperation in order to make the team strong and performative.

Knowledge (Knows/aware of / familiar with)

Team dynamics
How to foster collaboration
How to provide feedback in a respectful and assertive way
Team dysfunctions
How to have a clear idea of the roles in the organisation

Behavioural markers (being able to)

Foster an atmosphere of open communication
Encourage team participation and cooperation
Use feedback to improve overall team performance
Provide both positive and negative feedback constructively
Accept both positive and negative feedback objectively
Show respect and tolerance for other people
Carry out actions and duties in a manner that fosters a team environment
Workload management

Definition

The ability to use available resources to prioritise and perform tasks in an efficient and timely manner, adapt workload to the traffic complexity, manage personal efficiency and work tempo and remain concentrated with various traffic levels.

Knowledge (Knows/aware of / familiar with)

Strategies on traffic workload management

Behavioural markers (being able to)

On a consistent basis and during all traffic complexities being able to:

manage workload
develop good strategies to handle the traffic
ask for support from team members and be able to assist them when required
balance own workload with service delivery
Toolkit Navigation
Other profiles in this category