Best Practice – Alerting Tools
Introduce an alerting tool to highlight airspace infringements to controllers.
Develop software to provide a distinctive alert either through a flashing radar response or through the use of a colour change.
Assess if different alerts are required for primary and secondary radar returns.
Consider the use of Mode S, as it provides additional benefits by enabling the aircraft callsign to be obtained even when a common squawk (e.g. A7000) is being used.
Obtain Human Factors advice to ensure that these alerts do not distract controllers from the prime task of separating aircraft in the airspace they are responsible for.
Use the data to compare the level of controller reporting with the number of alerts generated to understand the current reporting culture.
Cost – Software development and modification
Example
In the UK the main ANSP has developed the Controlled Airspace Infringement Tool (CAIT) software, for use in the London Terminal Area, in two stages. CAIT stage 1 alerted against aircraft squawking Mode A/C or Mode S by changing the colour of the label associated with the radar return. Later, the software was modified to utilize Multi-Radar Technology (MRT) to alert against primary targets also.
Sample Material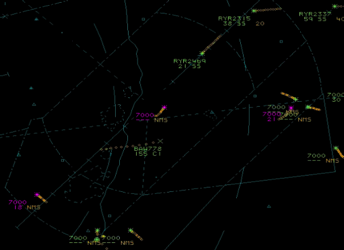 Radar snapshot showing CAIT alerts.